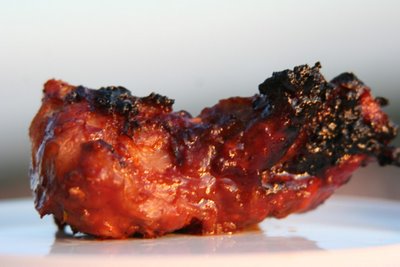 This weekend we raced a catamaran in our local beachclub (RBSC, Duinbergen). The race is called the Sailing Trophy. It's been 14 years now that our club organizes this race. And it's always great fun!
A usual start for a sailing race is on the water…a boat and a buoy form an imaginary line… a warning signal for 5 minutes, 4 minutes, 1 minute, 0 minutes… and off you go!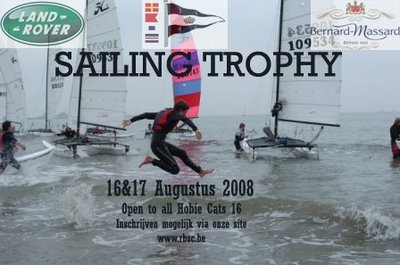 Here the start is different. A line is drawn on the beach… the crew goes behind the line while the helmsman is holding the boat in the water ready to go…a big tooooottttttt and everybody runs for their lives to the boats… to leave the beach as fast as possible…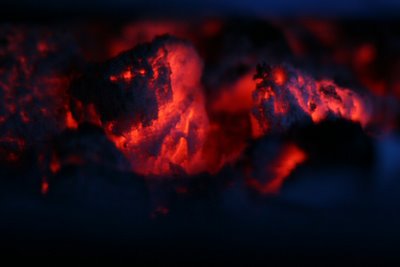 The nicest part about the race is the barbeque and beach party on Saturday evening! Friends and adversaries reunite after a long day racing and running around. The sun sets are magical. Usually a live band performs some great tunes to get the party started… It all ends up in hangover racing on Sunday! The best!
With this race coming up I got myself inspired to do my own beach BBQ last Friday.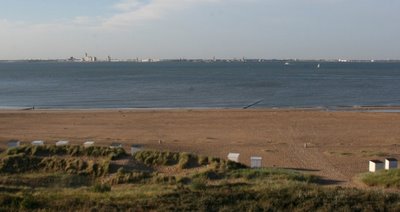 Although I must admit, I didn't actually do it on the beach. I did it on a terrace on the fifth floor overlooking the beach!
That way we still got the amazing views but not the crunchiness of the beach!
The beach BBQ's on the club are always very well organized. In the summer they do it practically every weekend. They know what they are talking about!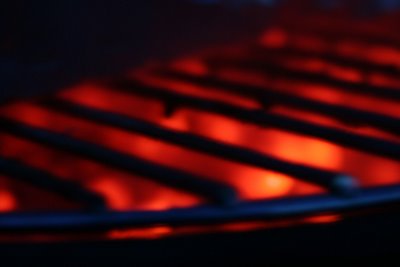 Two large BBQ sets are always on standby.
They use a huge flame torch to get the fire going. It's quick and easy and it doesn't give any disgusting chemical flavors to your food.
They serve a large selection of raw vegetables, pasta and potato salad and classic sauces including mayonnaise, cocktail and tartar as accompaniment. On the barbeque it's always some kind of classic meat skewer, prawns, sausages and a fillet of chicken or pork or veal.
It's good (quality and quantity) but… it's always the same.
It's basically, I believe, what you get on any Belgian barbeque. It's not very original or creative. And I think that's why I've never been a big fan of BBQ's.
Today I wanted to be innovative, imaginative…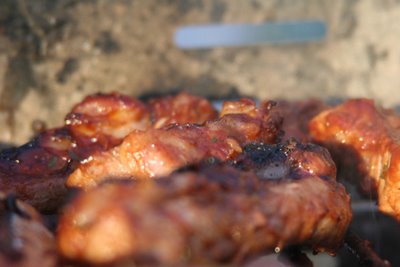 My great mentor Jamie Oliver was the guy I turned to first for inspiration. He has this amazing recipe "Blackened barbecued pork fillets" (from Cook with Jamie) I have been dying to try for a while. And it's absolutely delicious. The marinade makes you immediately dream of the desert floors and the huge ranches with the ever so typical music. It was loved by both young and old!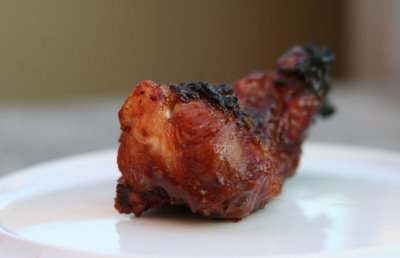 With the leftover from the marinade I made some delicious burgers served on mini ciabatta's instead of the usual soggy buns.
Finally eastern spiced lamb chops with cumin, coriander and fennel seeds were received enthusiastically.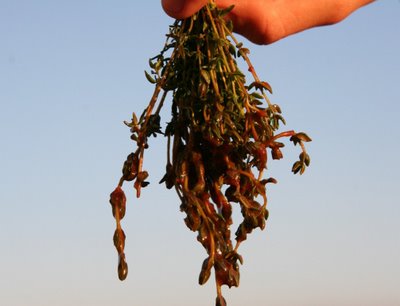 As for the "contorni" we made a salad of grilled red peppers, zucchini and eggplant. This lukewarm salad is both refreshing and comforting. It still has a bite and the balsamic gives acidity; but it ensures less disparity between the delicious warm grilled meat and the usual boring complementary crudités you get.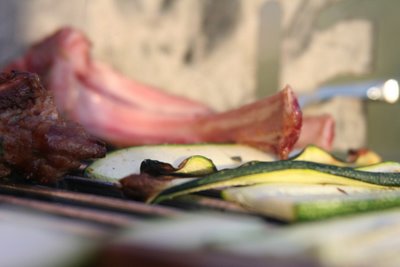 Tiny new potatoes rubbed with salt, pepper, fresh rosemary and olive oil together with Jamie Oliver's Salsa Verde (Jamie Oliver, The Naked Chef), made the finishing touch!
We packed the potatoes in packs of five in tinfoil. And put them on the BBQ when it was still warming up and we were enjoying our appetizers. (I made an unforgetable focaccia, recipe coming up soon!)

And finally dessert… thyme roasted peach au Grand Marnier! Succulent!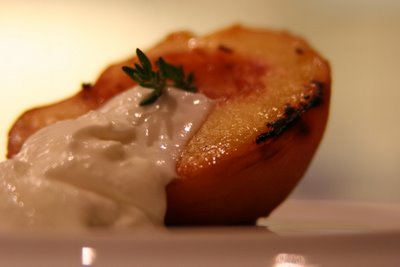 Blackened barbecued pork ribs
Adapted from Cook with Jamie, Jamie Oliver, Michael Joseph, Penguin, 2006
Jamie oliver uses pork fillets but I prefer ribs. The meat is richer and I love knibbling away the delicious caramelized marinade from the bones!
Serves 8
½ teaspoon cumin seeds
1 teaspoon fennel seeds
2 cloves
1 heaped tablespoon sweet smoked paprika
zest and juice of 1 orange
a small bunch of fresh thyme, leaves picked and very finely chopped
4 garlic cloves, peeled and very finely chopped
150ml/5½ fl oz Heinz organic tomato ketchup
6 tablespoons balsamic vinegar
16 pork ribs
sea salt and freshly ground black pepper
Grind the cumin, fennel seeds and cloves in a pestle and mortar and mix with the paprika, orange zest and juice, thyme, garlic, ketchup and balsamic vinegar. This is your marinade.
Season the pork ribs with salt and pepper, and then cover them with the marinade until completely coated. Feel free to marinate for half a day, but at least an hour.
When you're ready to cook, simply put the meat on to a barbecue or under a hot grill for 15 to 20 minutes or until nicely charred. Every time you turn the meat, brush it generously with the leftover marinade so you build up a sticky, blackened glaze. You can use a bunch of thyme as a brush.
Grilled Mediterranean vegetable salad
Serves 8
6 baby zucchinis
6 baby eggplants
2 red peppers
1 garlic clove
Balsamic vinegar
Extra virgin olive oil
Salt and freshly ground black pepper
Blacken your peppers on the BBQ on all sides. Put them in a plastic bag to develop steam so they peel easily.
Slice zucchinis lengthwise in thin stripes. Slice eggplants. Put both vegetables on the BBQ for a minute or 5 (depending on the thickness of your slices) until you have those nice black streaks on both sides.
Peel your pepper and cut into squares.
Put all the vegetables while still warm in a bowl, add finely grated garlic clove. Mix well. Dress with balsamic vinigear and olive oil. Season to taste. Because the vegetables are still warm, the garlic will melt and give a subtle soft taste.
Thyme Roasted Peach au Grand Marnier
Serves 6
3 peaches
2 thyme branches
Cane sugar
1 shot of Grand Marnier
Juice of 1 orange
Sour cream
When you are finished with your cooking and everyone is still enjoying their ribs, burgers, salads… Make a tinfoil basket. Put the halved peaches in it, sprinkle cane sugar and thyme leaves on top. Close the basket with more tinfoil. When peaches are soft, after 20 minutes or so, open up your basket. Make sure your BBQ is firing hot (blow it back to life and put the rack on the lowest position). Add the shot of Grand Marnier and ignite!
Extinguish with the orange juice.
Serve with a dollop of cold sour cream and lots of the delicious juices!