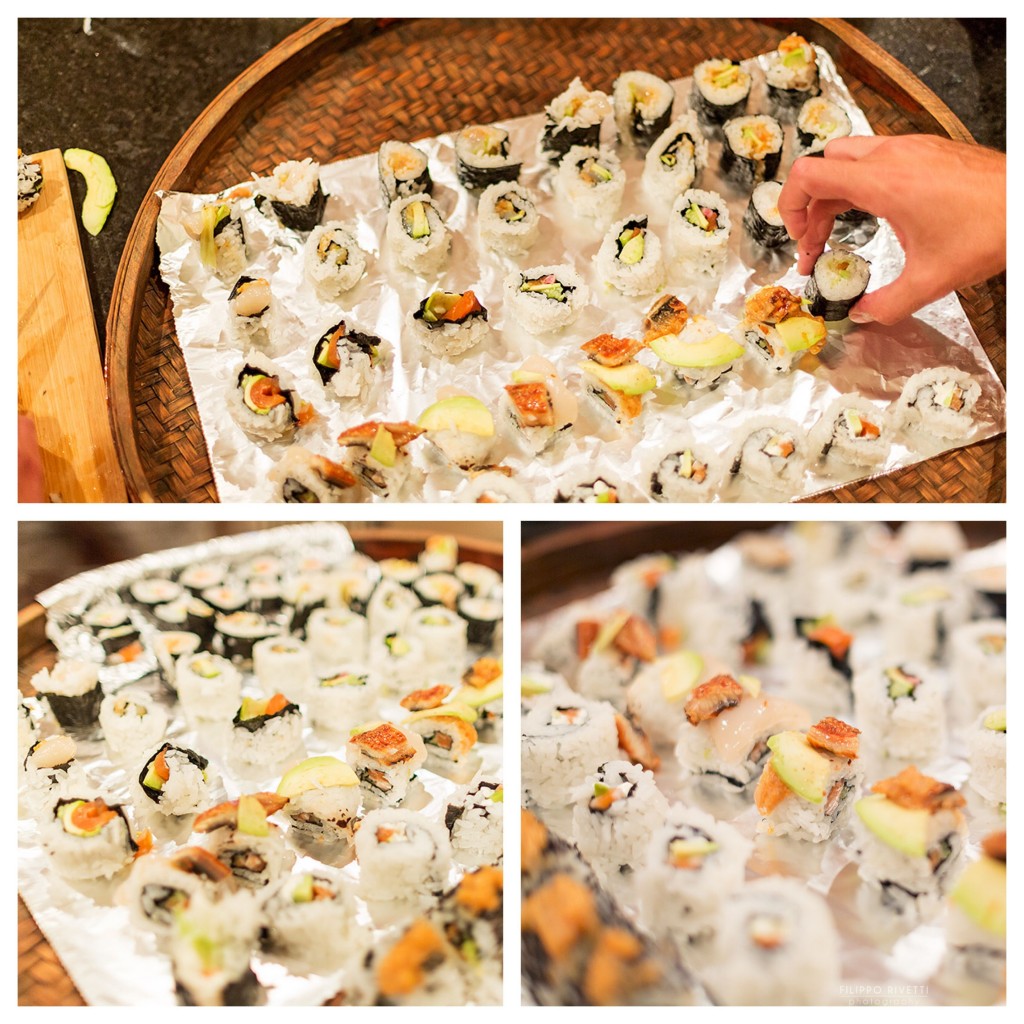 First of all let me clarify, I don't want to pretend I'm an Itamae at all. Itamae ("behind the cutting board") means a sushi master. It takes years and years of extreme hard work, dedication and complete devotion to become one.
Watch "Jiro dreams of sushi" and see what it entails to become a real Itamae. The movie shows us with incredible footage the sacred art of sushi making, creating sushi we can only dream of. Probably all the Jiro's out there get grey hair, goose bumps and a heart attack (in reverse order) if they hear I, insignificant amateur, wants to give a cooking class.
Maybe I should rename this. Ceci n'est pas un cooking class but merely an introduction, an amuse bouche, a flirt. Cause I do feel passionate about it, I do love to read about it and inform myself. And I have rolled more than once… 😉
I also feel sushi is a great thing to make in group. Back in the days when sushi was as sparse as the hairs on a soft shell crab, the only way to get our sushi fix in my hometown would be to make it yourself. So the kitchen would be transformed into sushi headquarters. As long as the prep work is done, it's all fun and play. Your guests get inspired by the catch of the day and compete in the prettiest maki or nigiri. Even grandma used to dig in!
So just some sushi basics for the real dummies or whoever lived on Mars for the last decade:
nigiri: rice ball with slice of fish on top
maki: rolls
sashimi: raw fish nothing else
nori: sheet of seaweed used for the rolls
wasabi: very strong mustardy paste made from horseradish
pickled ginger: ginger soaked in vinegar and sugar you eat in between to refresh your palate.
A little bit of sushi finesse:
do not dip your rice in the soy sauce but dip your fish, considered rude
do not roll your chopsticks together, considered very rude
do not ask for extra wasabi, considered extremely rude and insulting
Rule number 1: the most important ingredient of sushi is THA RICE!
-Buy short grain good quality at local Asian or Japanese store
-Cook to perfection in rice cooker or on the stove
–dress — dress — dress —
The secret is that sushi rice gets dressed up in a golden syrupy dressing to make it all gloss and glam and delicious!
Go to this website for the full run down on the art of rice making: http://www.allaboutsushiguide.com/sushi-rice-recipe.html
Rule number 2: THA fish!
–fresh — fresh — fresh —
–no smell — no smell — no smell —
-buy the whole fish so you can check quality by the clarity of the eyes
-invest in a good knife
-check out this video to learn how to cut salmon sashimi
-learn how difficult it is to do it in real life.
-cut squares for sashimi and nigiri
-cut long strips for rolls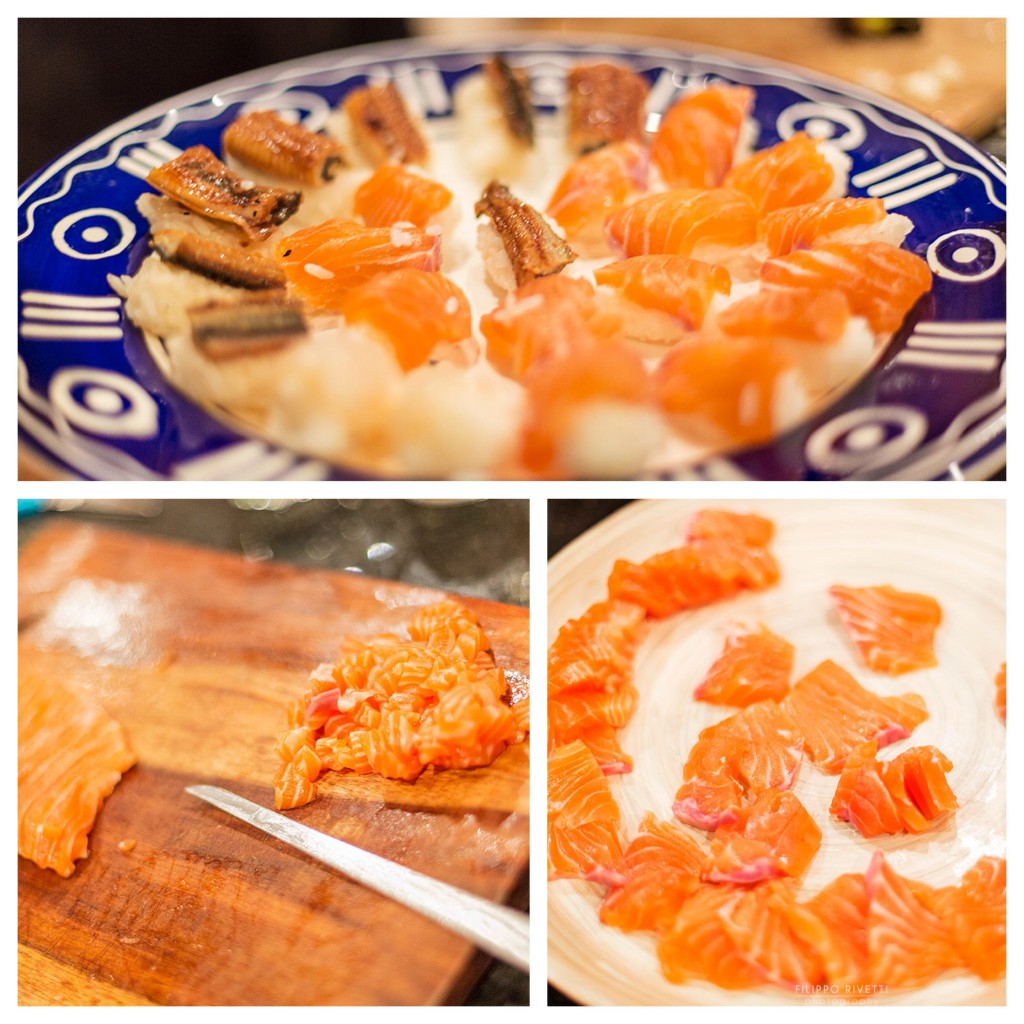 Rule number 3: THA Set Up
-cut up bits of leftover fish into a tartare, mix with some hot sauce and cream cheese for your spicy rolls
-cut in julienne: cucumber, avocado, spring onions, any other stuffing for rolls you fancy
-have a bowl of hot water ready to wash your hands because the rice … stick — sticky — stick
-lay out some nori sheets
-your bowl of rice
-your fish cut to perfection
And now it's all fun and games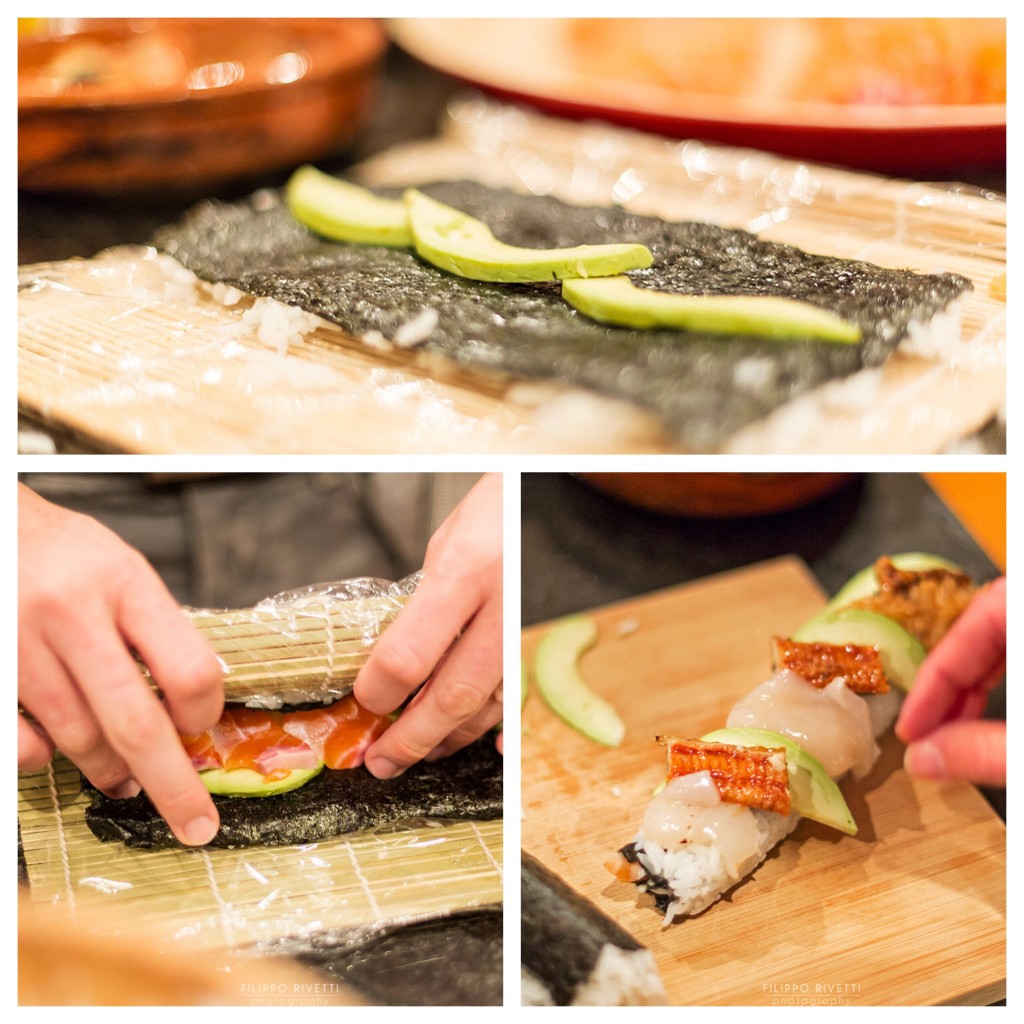 -A nigiri should be made in 3 moves, some rice in the palm of your hand
squeeze — squeeze — squeeze —
fish on top of the fingers and … Squeeze
-get rolling
Firm mmmm yes
Medium size mmmm yes
Delicious filling mmm yes!
Aaah the rolling… tricky !!!
Makes even me nervous
Hard to explain but if I can give one tip…
Think of it as a square, square, square rather than a roll
Try it and you'll know what I mean!
Final part … Last but definitely not least sushi is all about beauty
The eye eye eye
Vibrant colours they are!
Do them justice!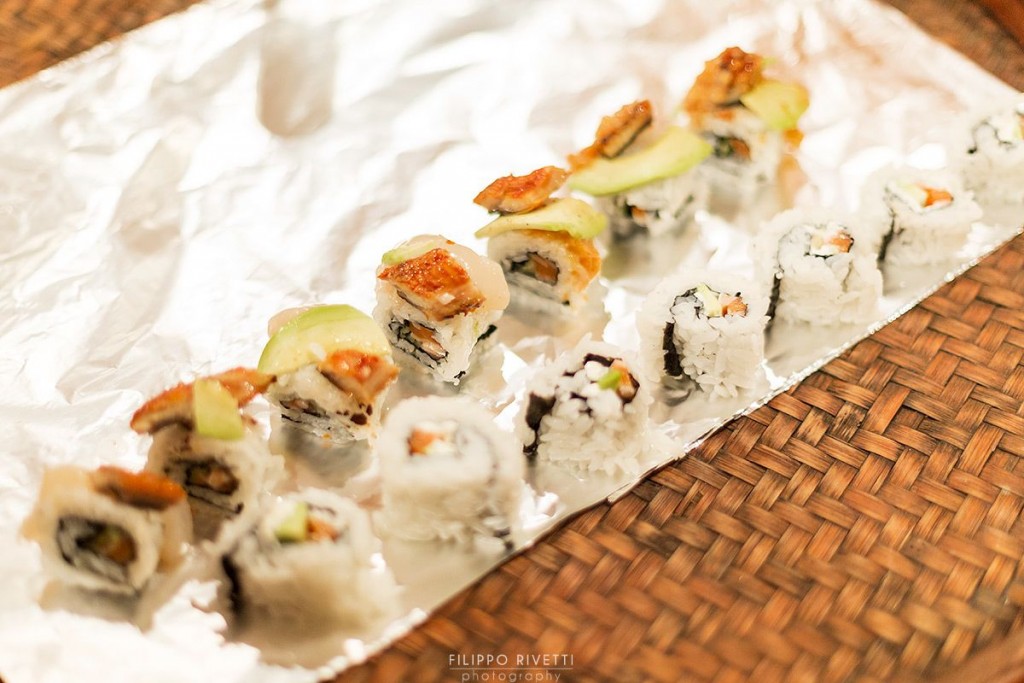 Serve with sake and green tea.