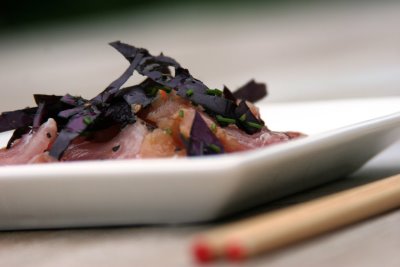 Not a lot of time because it's full on exams next week. The last ones before I finally graduate!!!
But I was lucky enough to get my hands on some ultra fresh wild Hamachi (yellow tail) last Wednesday. Oddly enough caught in the Mediterranean Sea!
We had it as a wonderful appetizer. I thought I must share it with you because it is so easy and this fish is so so rare to find here.
Crudo is the Italian answer to sushi. They believe soy sauce and wasabi kill the delectable tastes of the beautiful fresh raw fish. So they keep the fish as pure and simple as possible. Although it has to have olive oil of course! A dish couldn't possibly exist, live, without olive oil, the oxygen in Italian cuisine!
So simply cut your Hamachi into sashimi like slices. And assemble your dish by drizzling the slices with high quality extra virgin olive oil, a touch of lime juice, some fresh herbs and fresh black pepper and sea salt.
Of course this works with any fish you fancy eating raw, not just Hamachi!
I went for some extra touches in my crudo dish, just because I'm me…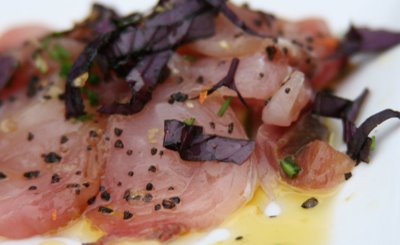 Instead of using olive oil, I used homemade langoustine oil, a subtle wonderful flavor. I also used black sea salt for colors, grounded dried chili for heat and purple basil for an exotic touch. Plus I prefer eating it with chopsticks… Delicate dishes need to be handled with delicate care.
Be as creative as possible is the message here but let the fish play the main part!
Homemade langoustine oil
(adapted from "Gastronomie met een ziel, 196 recepten van 65 chefs")
Next time you have langoustines, keep the cracked claws and dry them out in the oven for a couple of hours. Then simply add them to your favorite oil to infuse it with the langoustine taste. Sieve the oil before you use it.