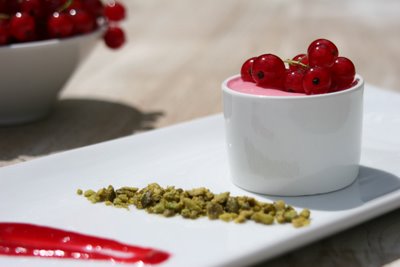 On my way to Elba for some classic swan racing…
But Ryanair or Pisa air traffic control, the Irish or the Italians, decided to take it slow today.
Two hours delay…here I am stuck in my seat 3F watching the screaming yellow that Ryanair uses as background colour. Never understood that… Why such an intense colour? Aren't they supposed to pick some soothing grey or pink to calm down the restless during takeoff, landing or crashing? This yellow makes me want to shriek and hurts my eyes. Especially with the hangover head that I have from my graduation-party-week.
IPod plays Elvis Presley's "White Christmas" song … too lazy to press next. "…I'm dreaming of a white Christmas just like the ones I used to know where those tree tops glisten and children listen to hear sleighbells in the snow. Oh snow. Oh and I I I I am dreaming of a White Christmas…"
Outside its 27C… I like the absurdity of this world…
So… I decided now is as good a time as any to write you guys about my new favourite dessert. Get myself back to summer and Italian vibes.
Summertime is berry time!
Raspberry, strawberry (my personal favourite especially when they are from Ellens' garden mmmmmmmmm!), blackberry, cranberry and the ones with the most childhood memories… Red berries!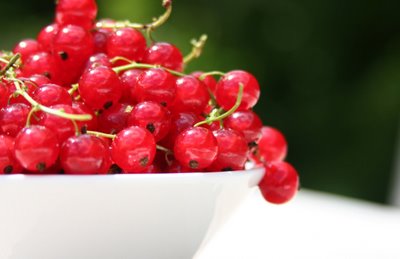 Mmm, my beloved grandfather had them in his garden. They were planted with perfection only he can hold up. They were carefully guarded from greedy birdies with complicated net configurations but never safe from hungry little grandchildren. We used to skip dessert, sneak through the little gate and hunt for the beautiful red pearls! We would help ourselves until our tummies were round little barrels full of the juicy treats. Sadly enough our grandfather passed away and with him he took the berries.
But we have a new endless source of the goodies; our retired electricity man. He takes hours to pick them just to be away from his wife. 🙂 I have the impression he loves his wife more and more with the years because every year he brings more and bigger ones!
Watch out they are not for everyone, if you have a sweet tooth you might prefer them marinated in sugar like my father and my sister. These berries are the sourest of all berries. But that's what I love about them and that's why this dessert is my new all time favourite dessert. It's got that sour touch to it I seek so desperately when having dessert. For me it's not the sweets that finish of a perfect meal. It's the juicy fruity acidity that I want to feel on my palate when leaving the table.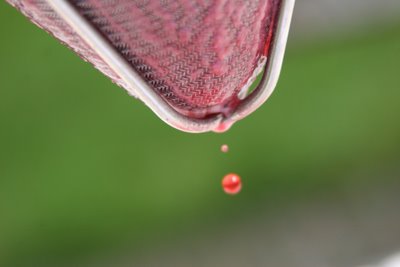 The Panna Cotta is a classic Tuscan dessert, normally very rich and creamy. The combination here of buttermilk and red berries cuts right through this creaminess. I took the Panna Cotta recipe from
www.deliciousdays.com (best food blog in the world!). I substituted Nicky's blueberries for my red berries. I had to up the dose of sugar quite a bit to get the right balance. Also the amount of gelatine she uses isn't enough to get my Panna Cotta even remotely firm. So I doubled that too and now we are on the right track. Although I agree with Nicky, I don't need a gelatine chunk Panna Cotta, I prefer it when it's still a bit oozy and runny.
Summer is here, let's forget about white Christmases and delayed planes and bring happy smiles to our faces and stomachs!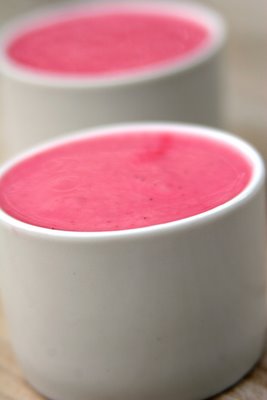 Red Berry Buttermilk Panna Cotta
Serves 6
adapted from www.deliciousdays.com
400ml cream
4 tbsp sugar
1 vanilla stick
200 ml buttermilk
300g red berries
4 sheets of gelatine
Soak the gelatine sheets in cold water. Put the cream, sugar and vanilla stick (sliced lengthwise) on a low heat for 15 minutes to infuse. Mix buttermilk and berries with a stand mixer. Sieve this mixture. Remove cream from the heat. Incorporate the gelatine sheets in this slightly cooled mixture add the berries and buttermilk. Before putting in small serving bowls pass it through a fine mesh sieve again. Let the little pots rest in the refrigerator for at least 5 hours.
I served them with a red berry coulis, and some roasted pistachios!