Oh Gosh I'm late! I'm so so late!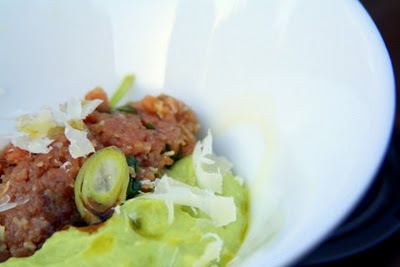 It's been over 2 months now since my last post. But in my defense it has been a very moving summer, both literally and figuratively.
My sister in the hospital after what was supposed to be an innocent cycling trip. She gave us a big scare but don't worry she is back to teaching back bending and sun salutations at www.lynnyogacenter.com
My brother getting married for the seventeenth time.
Moving from Antwerp back to Ghent.
Changing jobs.
… Enough excuses?
Probably not but I'm here now so let's get to the good stuff!
On these late summer days I'll share a recipe from a very good friend. She is Belgian but lives in Hong Kong. If that's not international enough for you … we've know each other for less than 2 years and so far we met in 6 different countries!
She is just as me a big fan of travelling and cooking!
She is a perfect hostess. She serves delicious and interesting appetizers. And she whips up the most amazing dinners focused on local flavours with international influences.
Visit her in Hong Kong and she'll make you a delicious Tom Ka Kai. Visit her on the Belgian coast and you'll feast on langoustines, crevettes grises, maatjes, coquilles all from Westhinder…(read local ultra fresh seafood!).
I like this dish because it's a clash of nations, just like Nathalie herself!
The original steak tartare, Filet Américain, is a Belgian dish. It was invented in 1926 by Joseph Niels. He served it in his restaurant "Canterbury" in Brussels. Or at least so he claims. The recipe: high quality minced beef (tache noire) mixed with mayonnaise, chopped piccalilli, egg yolk, finely chopped onions, Worcestershire sauce and capers. The dish is prepared at your table and served with French fries (bien sur!).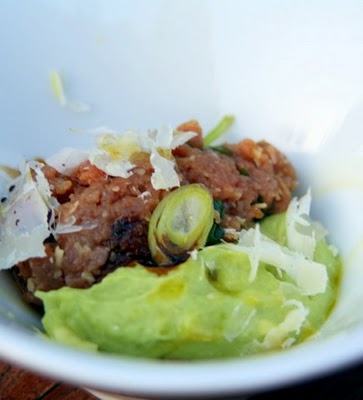 Today the steak tartare is prepared with Italian flavours. It's mixed with everything you would put on top of your favourite beef carpaccio. It's yummy!
The avocado with sechuan pepper adds an Eastern touch.
The balance is perfect. It's fresh and it's light. Yet the creamy avocado mousse adds richness and texture.
We had this appetizer on our Belgian coast… With a glass of champagne… Lingering in the evening sun after a wonderful day of sailing and beach yoga.
Heaven!
Enjoy!
Italian tartare with avocado mousse
serves 6 persons as an appetizer
adapted from Nathalie De Keyser
Italian Tartare:
300 gr raw minced beef – premium quality
Juice of half a Lemon
Olive oil
Balsamic vinegar
Basil
Rucola
Parmesan shavings
Black Pepper
Seasalt
Peperoncino
Mix all ingredients gently with a spoon. Season to taste.
Avocado mousse:
2 ripe avocados
3 tablespoons of sour cream
juice of half a lime
Sea Salt
Sechuan Pepper
Coriander chopped
Mix together all the ingredients. Season to taste. You can leave it chunky or make it real smooth whichever you prefer.
Serve in a bowl: one spoonful of tartare and one spoonful of mousse. Top with thinly sliced spring onion some extra rucola leaves and parmesan shavings. Or serve layered in small glasses.