Without sounding presumptuous but who would have thought that America can teach me something on culinary grounds!?
Just kidding but you have to admit the multimillion companies such as McDonald's, KFC, Subway, Dunkin Donuts, etc. aren't exactly culinary delights/highlights.
Now I know that doesn't say anything at all about real local aromas. But your exponentially expanding obesitas curve isn't boosting confidence. Neither are the enormous food portions. And what's up with the high sugar content in anything from bread, cereals, salad dressings to burgers and sauces!?
But luckily this is only my frustration towards multinationals not towards the "couleur" local. Because I discovered some really nice and interesting foods. And I know there is still so much more to see and learn.
I'll only highlight two things this time.
I discovered them on my most recent sailing trip along the North East Coast of America. We sailed from Long Island to Newport, then on to Martha's Vineyard and Nantucket. The coast line was stunning. A mixture of Scotland and Brittany I would say. But with the picturesque little houses dressed in wood shingles.

My first discovery is new and delicious. As you recollect I love my pelican diets. On every sailing trip I like to leave behind the landlubbers and four footers. And throw myself into the luscious world of fish and seafood. Being right there at the source is just absolute indulgence. The sea has so many delectable delicacies!
On this trip I discovered littleneck clams. Absolutely marvellous!
Let me describe you one of the many settings where I ate littlenecks.
A sailing boat on a mooring. In the bay of an island. As the sun starts its decent, the air is hot with a light summer breeze.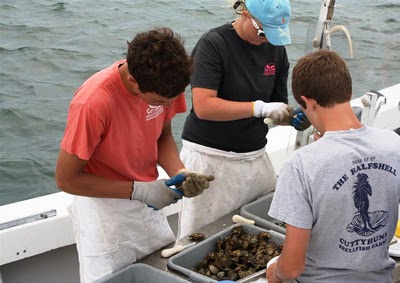 You hear the soft humming of an engine. The local teens come along side with … A raw bar! Amazing concept: a boat, a big box full of oysters and littlenecks on ice. You order. In front of you they open the oysters and the littlenecks. They also serve shrimp cocktail for the less adventurous. And that's it. Right there a little piece of the ocean being prepared in front of you. You crack some black pepper. And slurp up the littleneck. Be sure to bite it before you swallow it. A bomb of flavours explodes in your mouth. The ocean in all its beauty is there tingling your taste buds.
Some people add wasabi, horseradish or tomato sauce I just prefer it "nature".
The oysters here are a disappointment. Nothing compared to Brittany's jewels. But littlenecks are joining my top ten seafood list.
Littleneck is one of the smaller members of the hard clam family. They are found all along the eastern coast of America but originate mostly from the coast between Cape Cod and New Jersey. They are the best clams to eat raw. Their taste can best be described as a cross between an oyster and a mussel. They are juicy, meaty and crisp. Enormously wonderful!
And what could one drink with such interesting flavours. A glass of champagne or crisp white wine works wonders. But what is also real fine, especially if the day is hot: a glass of Pimm's.
Now I know Pimm's shouldn't be on the list of American discoveries because it's actually British. But as I rediscovered this old time favourite during my American trip I'm adding it to this post anyway. Plus it really works fighting fit with oysters and clams. Even Mr Pimm thought so! He actually had an Oyster Bar in London . And instead of swallowing the oysters with gin like the fancy Londoners used to do back then in 1823. He gave them Pimm's n°1 cup: gin flavoured with liqueurs and fruit-extract. His Oyster Bar and especially the Pimm's became a big success story.
Pimm's comes in various numbers (1, 2, 3, 4) depending on the alcohol base that's used such as gin, rum, brandy, vodka…
On our boat there were some discussions on what exactly the ingredients are for a Pimm's drink. The latest commercial anticipates this question elegantly. The ingredients are the characters of the commercial. So officially and/or supposedly the perfect serve is: one part Pimm's and three parts lemonade, with ice, orange, cucumber, strawberries and mint served in a jug.
Now without wanting to sound big-headed, I adapted it, tested it and outdid it! I want to give you my favourite flavour combination of all time. I suggest bartenders around the world write this down. Because this is the top notch perfectly balanced Pimm's created by the cooking goddess from Belgium. Now that didn't sound big-headed at all I do hope! But really try it!
The combination carbonated cranberry juice and Pimm's works picture perfect.
Be sure to add a celery stick to your glass so you can stir your drink around and spoon out the juicy cucumber, apple or other fruits.
(See how celery is needed for this drink K?)
Pimm's By The Hidden Glasshouse
Serve with Littleneck Clams or seafood on a hot summer day
Serves 6
1 cucumber deseeded and diced
1 green apple diced
6 strawberries
3 lychees peeled and cut in half
Lemon diced not peeled
2 eucalyptus leaves lightly crushed
a bunch of mint leaves finely chopped
6 slices of orange peel
6 celery sticks
Cranberry juice carbonated (I used Carpe Diem Cranberry and it's really PERFECT for this)
Pimm's N°1
Ice cubes


Take a giant jug.
Put all the vegetables and fruits chopped in it: cucumber, apple, strawberries, lychees and lemon.
Add 1 glass of Pimm's and 2,5 glasses of Cranberry juice, or more of both, until the fruit are topped up.
Add the crushed eucalyptus leaves and chopped mint leaves.
Finish with ice cubes to get it really cold.


Serve in glasses with a celery stick and some orange peel.