Sydney's restaurant scene… What does it have to offer?
Pretty much anything (obviously)!
But the ones that tend to steal my heart are those that are right there on the edge of the water.
Okay maybe it's because I'm not a true local yet but I just can't get enough of the views, the wonderful sea breeze, the sounds of the ocean. How can you not love it?
I just can't believe I'm living in this city that has this kind of dream like settings to offer.
But waterfront restaurants are tricky. I mean obviously they scream tourist trap all over. They tend to be overly expensive cause you pay for the view and they produce low quality food cause you are a stupid tourist who fell for the view…
So why do I still love them? Because 

 

"Il y a l'exception qui confirme la règle…"
There are these hidden gems. They will still be expensive but the food is just as good as or even better than the view.
It ticks everything of my list a waterfront restaurant should have.
You don't just walk past it; you actually have to go find it.
You arrive at night a dark alley, turn right, a gate, no lights no guard. The silhouettes of the wharf doom upon you… Are we sure this is right?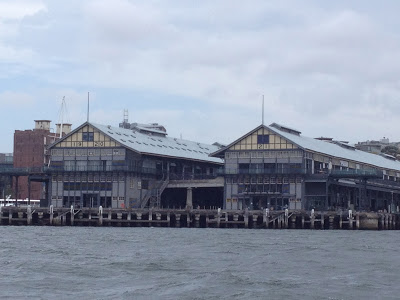 One buzzer and a shabby speaker… It might look less threatening in daylight for sure and not come close to what I'm describing right now but can't help my vivid imagination at night.
Flying Fish is at the end of the dark wharf; a valet guy waits for us. We set foot on the docks and here come the soothing water sounds, the cool sea breeze on a warm summer's night. The city is there at our mercy. It's stunning.
It's the west side of the harbour. 
Being an East side girl this view is unusual to me, exotic. Yes cause I'm soo bored of the east side view. I mean who wouldn't when you wake up to it every morning, the novelty tends to wear of right? (Oh no it doesn't! I love my Harbour view apartment to bits! I just love waking up and gazing at it.)
Right I'm getting side tracked. Back to Flying Fish.
Beautiful name, what's it called again when words start with same letter? Alliteration? Even though it's just a fish it's always been this mythical fish to me, as poetic as it's name.
The evening gets better and better… The decoration in the restaurant is simple but beautiful. There is this golden rain of little light balls that drops down in the middle.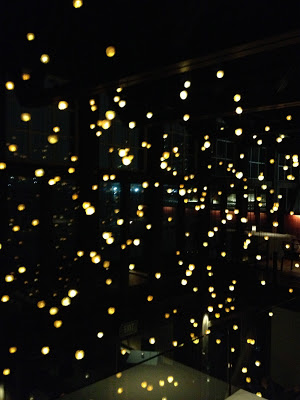 Exquisite! 
 
Plus don't forget the backdrop of the harbour bridge… What more can one wish for?
Oh right the food, the food! You see I'm like all those stupid tourists. I keep forgetting about the food, just gazing at the surroundings.
I think every single dish of the tasting menu was damn fine but just one stood out to me in particular. It so happens to be their signature dish and I understand why.
"yellow fin tuna, pork belly, pink grapefruit, black pepper caramel"
Can you imagine the explosion of flavors? The cut of the tuna was perfect, not the Holy Grail toro cut (the fatty belly part) but just above that. So it's infused by the fat aroma but doesn't actually have the fat texture. Because this is where the pork belly waltzes in. And the rich succulent belly is done just perfect, it melts away on your tong. And then you have to imagine these beautiful essences balanced out by the zesty tangy grapefruit and the luscious caramel with that beautiful cracked black pepper twist. Oh just to finish it off some pork crackling of course. 
 
It's the Fabulous Fantastic Flying Fish!