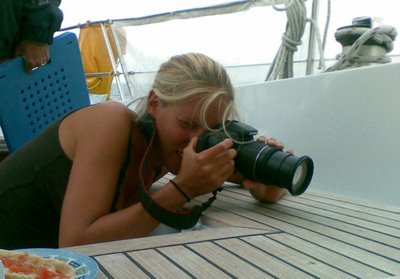 The Hidden Glasshouse is one year old!
It has been an interesting and exciting year. Finally putting my food musings down on paper or more particularly on the net was the best plan ever!
Whereas before I would cook up concoctions (some more successful than others) and they would vanish into happily filled stomachs as the dishwashers hums peacefully.
Now, having the blog, it disciplines me into writing down these brewings and documenting them with photo material. They don't disappear into thin air anymore.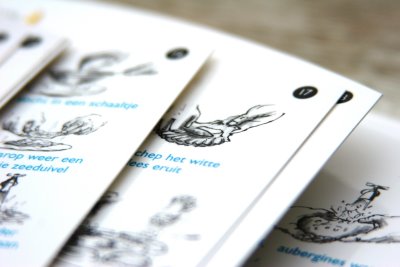 Mais aussi
, I love doing mini-researches for my blog.
Maybe it's the scientist in me that comes out but having some theoretical facts and figures before writing my post is essential to me.
And there are of course my devoted readers!
Thank you everyone! It's been a joy!
But I want to dedicate this post to two of my biggest supporters.
Not just because they read every single one of my posts. They are prominent foodies (one has a very useful book). We share the same values in life. We have an unbeatable optimism. We like living our lives to the fullest. And they are really two of my closest 'old' friends. Although they do not live in Belgium, wherever they are or I am, I know they are just a phone call away.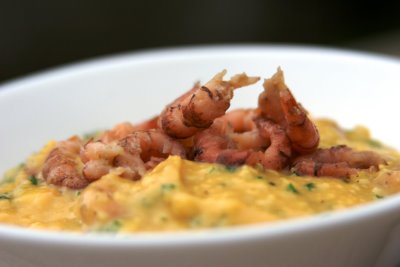 So first Georgina, my dear Georgina, she is the most charming English lady I know. She is an old friend of my mother when she studied in London.
She and her husband moved to France in 1993. Moving to France brought them close to us which I find a real treat! I used to love their little weekend getaways to Ghent. When Georgina is in the house there is always the sound of laughter.
Sadly enough her dearest husband passed away last year. He was such a good old fellow and could make the best pies in the world! A real English doctor; kind hearted and good spirited.
We all truly miss him that's for sure. But on the upside it means we see a little bit more of Georgina. And she tells wonderful stories about the old days. She is always a huge supporter when I'm standing in the kitchen. And also an excellent second set of hands.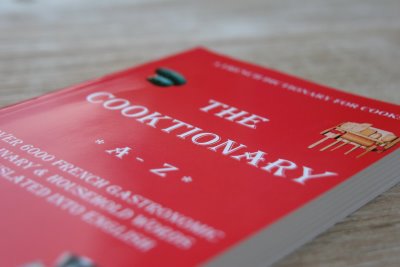 She has a brilliant book, well actually 3 and a 4th on the way. "The Cooktionary" is a handy guide. It translates French gastronomic, culinary and household words into English.
It's an attempt to make the English and French enjoy food together in peace. I know it's a long shot, but I tell you get it in your house and you'll see what it does to you. It's not just translations. It's also packed with knowledge and useful facts. For international cooks like me, with cookbooks in every language of the world (being English, French and Dutch. Bien sur! Quoi d'autre?!), it's a must.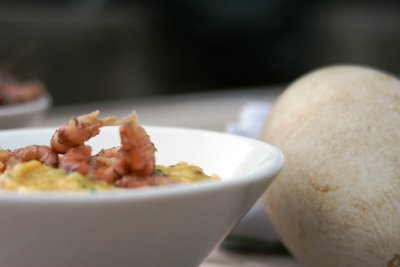 She brought me the best eastern gift ever recently: two marvelous geese eggs from her neighbors. We made scrambled eggs with handpicked grey shrimps (the good ones from our Belgian and Dutch coasts) on Sunday morning. The consistency of geese eggs is so different, so sinfully unctuous and smooth. Absolutely daffy!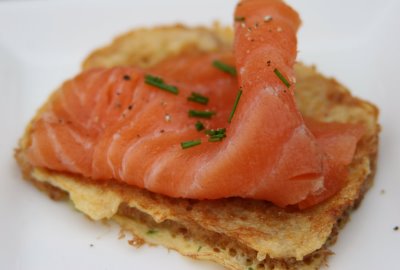 And then my prized Patrick and his most beautiful wife Monique!
This Dutch couple is as Dutch as you can get, but the good kind! 😉
Again I have to admit they are old friends from my mother, sailing friends this time. One more passion we share! They live in enchanting Amsterdam and are a captivating couple to me. They have a very glamorous travel life I can only dream of.
We don't often get the chance to see them. But when we do, we have such wonderful fun together! We muse about food and travel, we dream about the days of yore, and we philosophize about adventurous futures.
I received from them a wonderful eccentric cookbook from a restaurant in Amsterdam: "Savourieën van John Halvemaan".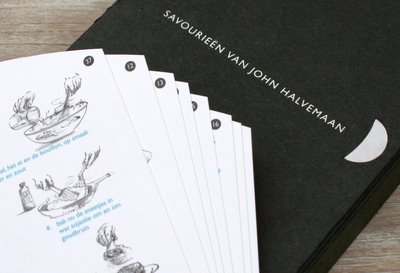 The chef and owner of restaurant "Halvemaan" is a friend of them. The cookbook is limited edition and signed. It's a piece of art. It scares me to use it. I'm afraid to get it all smothered.
But the chef thought of that. Recipes are written on handy individual cards with step by step drawings. Just get out the recipe you want and leave the beautiful book safe out of the way. A great concept and innovative food! I must go to that restaurant!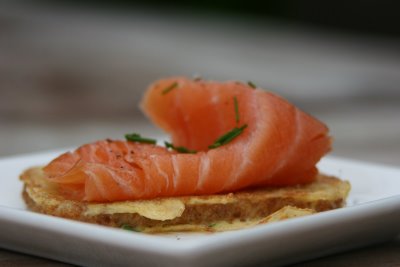 I went for their French toast with salmon. Such an interesting take on French toast or the omelet or the salmon on toast… A combination of everything! I absolutely love it!
Scrambled eggs with shrimps
Serves 2
1 goose egg
3 tablespoons of milk
Pepper and salt
Handpicked grey shrimps as many as you like
Beat together the egg and milk in a bowl. Season to taste.
Get a nonstick pan on a medium high heat.
Add your mixture to the pan. With a whisk constantly stir. The omelet almost has to form a sort of emulsion. When you have a smooth cooked consistency, remove from the heat and add the shrimps.
French toast with salmon
serves 2
from savourieën van John Halvemaan
4 tbsp of stock (I used cooking liquid of asparagus delicious!)
2 slices of smoked salmon
Mix together horseradish, egg, stock and season to taste. Drench the bread in this liquid.
Get a non stick frying pan on a medium high heat and fry the french toasts.
When ready top with a slice of salmon and serve with some squeezed lemon and black pepper.