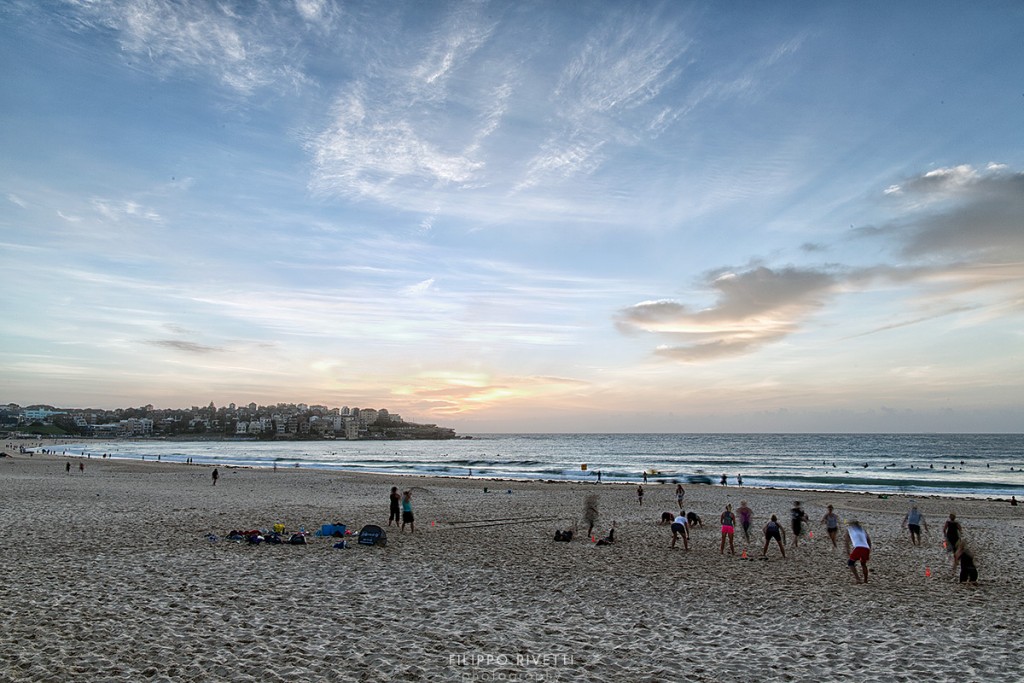 Living in Bondi Beach… It's a tough life… Roll out of bed in morning, stroll to the beach, a little sunrise swim to wake up. But don't think you will be the only one. Bondi Beach at 6AM has more people out and about working out than the Olympics final!
Healthy lifestyle screams at you from every corner of the street. The fit craze goes hand in hand with #organic-biodynamic-raw-activated-gluten-free-vegan-vego #hype.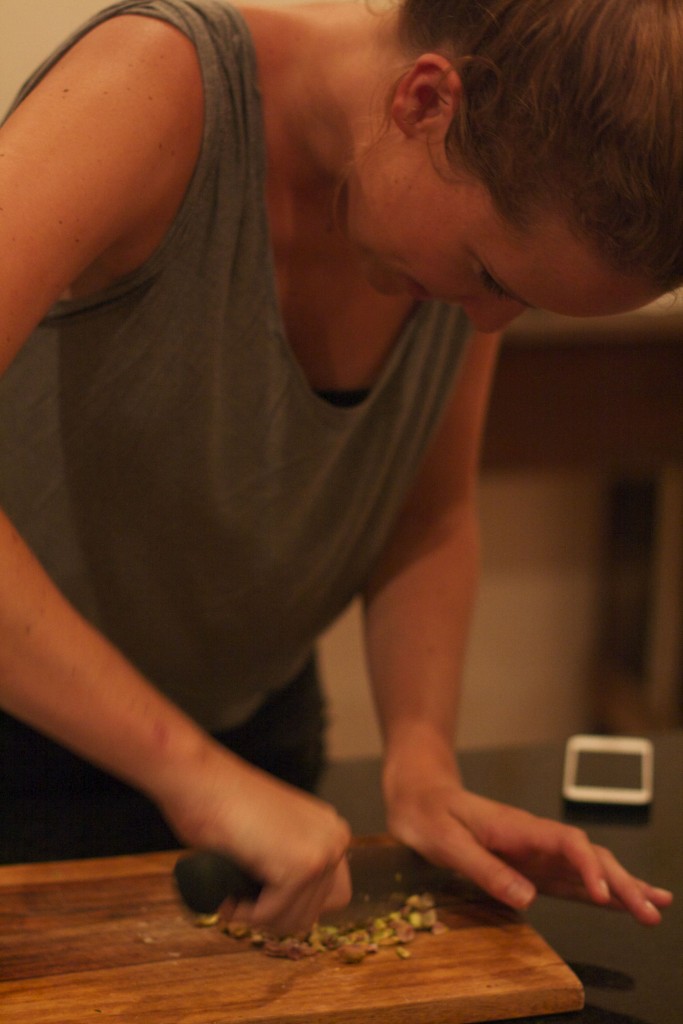 Scenario…
Ultra slim leggings, color coordinated running shoes, make up, wonderbra (sports version) and high-rise ponytail check. Buy your tall flat decaf skinny soy biodynamic latte check and then start gazing at the Belgian girls selling Belgian waffles.
True thing! We were selling waffles on the street for a garage sale and the Bondi girls just couldn't stop inhaling the delicious smell of freshly baked waffles, melted butter and sugar. They kept coming back for more smells and kept saying like a mantra "I can't, I'm gluten-free, gluten-free, gluten-free."
The hysteria of gluten-free is a little out of control. Celiac disease is a serious autoimmune condition that is triggered by gluten. The disease causes inflammation of the small intestine and can lead to malnutrition and variety of symptoms. The treatment is a gluten-free diet.
These days all sorts of people without celiac disease have adopted the gluten-free life. No doubt inspired by some "influential" people such as Victoria Beckham. Gluten gets the blame for everything from weight gain, energy loss, bloating to headache and child behavior.
And Bondi is all over the gluten-free, they even sell gluten-free shoes! I'm surprised they haven't thought about advertising their beach and ocean as gluten-free!
Anyway we couldn't not organize an "organic vegetarian gluten-free"- cooking class. When in Rome…
So we got the lovely Kelly Elkin from ALAS pyjamas to come demonstrate us how it's all done. Kelly Elkin does not live in Bondi and is not a gluten-free freak. She is simply a brilliant charming vegetarian cook. She believes in organic, fair-trade and sustainability without pretention. She runs her own business ALAS, beautiful pyjamas, inspiring philosophy go check it out: ALAS THE LABEL.
She took us through a Middle Eastern journey in the vegetarian world. With elegance and ease, chatter and a glass of wine we discovered, explored, created.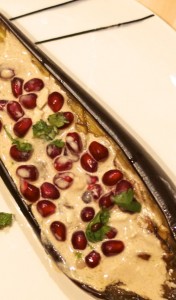 Quinoa balls vibrant green, delicious and easy. It works beautifully with this capsicum dip but you can serve it with a tatziki or on its own as well. I know I will definitely be serving it as party food in the future.
Next were succulent slow roasted eggplants with tahini and pomegranate a tease for the eye and the palate!
She served it with an Israeli couscous salad on the side. Israeli couscous or pearl couscous is basically big couscous but it just has that little more flavor and meatiness to it. It works well in salads because it coats well with the dressing and it holds its own shape. Normal couscous tends to become a soggy mess. And Oopsie it's not gluten-free! Oh well, Thank God we have our organic gluten-free wine to disinfect!
Roasted Eggplant with tahini dressing and pomegranate
Serves 6
3 eggplants
olive oil
1 tbsp tahini
4 tbsp water or more
½ clove garlic
1 lemon, juiced
salt and pepper
1 pomegranate
Cut your eggplants in half, score with a knife into diamond shapes. Drizzle with olive oil and place in preheated oven 160° for 45 minutes to 1 hour until soft and unctuous.
Make the dressing by mixing thoroughly tahini, crushed garlic, lemon, salt and pepper, then gradually add in water until you get the consistency you like; smooth but not too liquid.
When the eggplants are ready, get them on a serving plate, drizzle with tahini dressing and sprinkle the pomegranate seeds on top.
Golden Tip: to get out the pomegranate seeds easily just spank one half on the back and they will fall out easily
Israeli couscous salad
Serves 6
3 small cucumbers
2 Roma tomato
1 bunch coriander
1 bunch parsley
1 bunch mint
5 dates
1 handful of almonds
1 orange
1 cup Israeli couscous
1 red onion
3 tbsp red wine vinegar
salt and pepper
olive oil
Chop your red onion, put half in a frying pan with a drizzle of olive oil and gently fry until translucent. Then add the Israeli couscous, fry some more until glassy. Add 1 glass of vegetable stock and let it simmer for 20 min until al dente. Set aside and let it cool down.
In the meantime chop your cucumber, tomato, herbs and dates and place in a big salad bowl. Segment the orange as shown in the pictures and add as well. Make sure the juices fall in your salad bowl too, give the left over orange a good squeeze. Add the other half of the copped red onion and the almonds. Now drizzle with red wine vinegar, add the cooked Israeli couscous and finish off with salt and pepper to taste.
Quinoa balls
100 grams of quinoa, rinsed thoroughly
400g ricotta cheese
1 large bunch parsley, roughly chopped
1 large bunch basil, roughly chopped
150g almonds, finely chopped
Salt and pepper to taste
2 tsp olive oil
Preheat your oven to 200°
Cook quinoa in 1 cup of water on medium heat for 5 minutes, the quinoa still has to be very al dente. Drain it thoroughly.
Add the quinoa together with all the other ingredients to a food processor until combined. Make balls from roughly 1-2 spoons of paste and place on lined baking dish. Bake for 25-30 minutes, turning twice to cook evenly
Serve with capsicum sauce like this inspiring blog post or tatziki or simply some yoghurt with salt and pepper.