As I'm hibernating through my third winter in the southern hemisphere I feel like it's the coldest one ever. And have desperate cravings for hearty food, sticky stews, winter spices and red wine.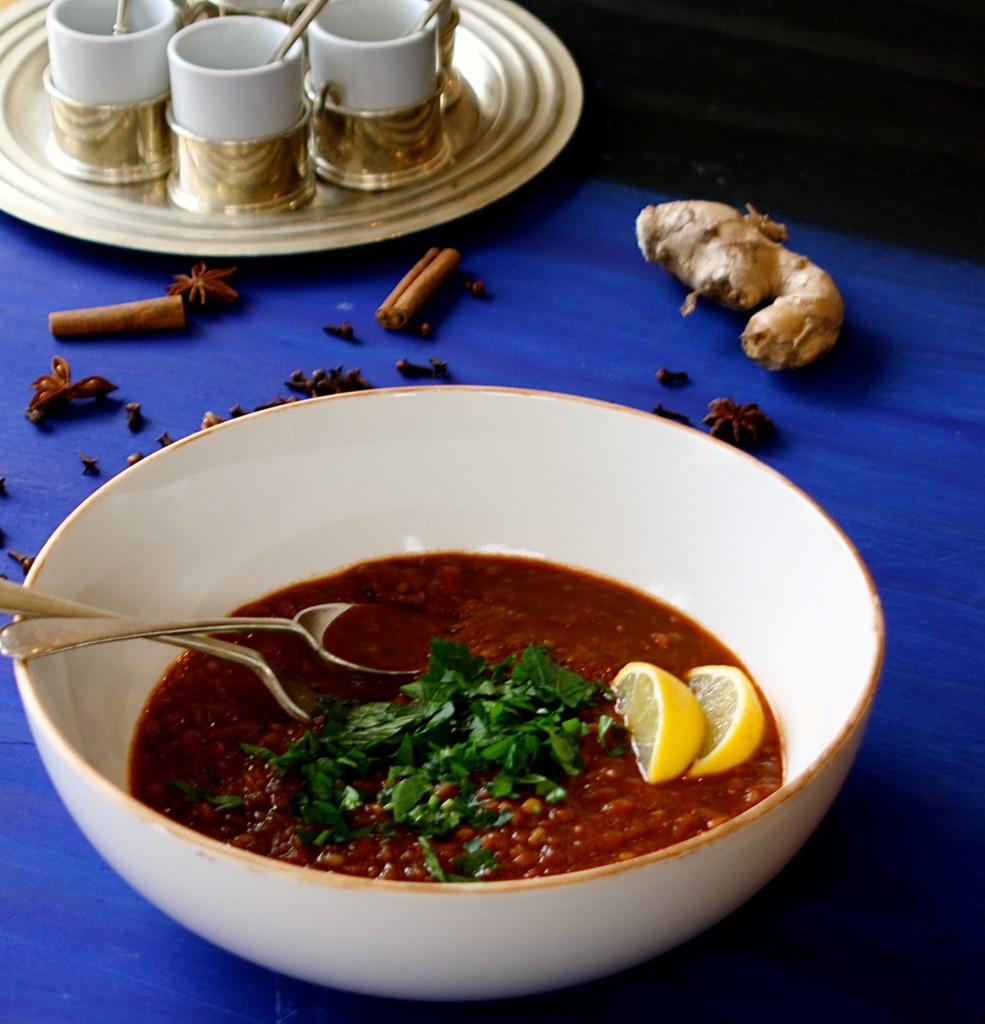 Back in the old days when I used to live up north I couldn't really believe it could ever be really cold here. I thought the people down here where wingers. Temperatures around 14-16°C? How could you possibly complain or have the dignity to call that winter? It's like a Belgian summer pretty much, we are in shorts and skirts, heating up the BBQ and chilling white wine with those temperatures. How could you be thinking about crackling fire, dark stews and mulled wine?
But very soon I changed my opinion once I got here. The wind is icy, the air is humid, the houses are poorly isolated and have no central heating… You are frozen to the bone in these conditions. Very soon my wardrobe warmly welcomed Uggs, snuggly cashmere sweaters, hats, scarfs and gloves. The kitchen got filled with smells of slow cooked lamb, roasted pumpkin, cloves, stewed plums and burnt oranges.
So today we travel to Morocco to warm up our frozen fingers, icy toes and red noses. Harira is a soup that traditionally is eaten during the Ramadan to break the fast. It is served with dates. There are plenty of variations to this soup and I have sort of made a combination of what was left in my pantry. Feeling frozen I really felt like having something dark sticky, a combination of sweet and savory so I decided to put the dates in the soup and make a more caramelized version. Most recipes call for noodles but I went for ancient grains to give it a super warming power!
So feel free to improvise yourself on this or other versions but above all let your soul be warmed up!
inspired by good friend Hayat and Whole Hearted food by Brenda Fawdon
serves 6
2tbsp olive oil
1 large red onion, chopped
2 cloves of garlic, chopped
1 celery stick, chopped
5cm piece of ginger, grated
1 chilli, chopped
1 bunch of coriander, chopped
1 bunch of parsley, chopped
salt and pepper
1 tsp turmeric
1 cinnamon stick
1tsp smoked paprika
1 bay leave
5 dates chopped
1 vegetable stock cube
1 can tomatoes
2tbsp tomato purree
1 lemon
1 cup faro or barley or other ancient grain to your preference, soaked overnight in water and 1tbsp apple cider vinegar
1 cup green lentils, soaked overnight in water and 1tbsp apple cider vinegar
Heat the olive oil in a large pot and gently fry onion, garlic, celery, ginger, chilli and half of the chopped fresh herbs until the onions are translucent. Next add the spices (turmeric, cinnamon, paprika, bay leave, salt and pepper) and continue to fry for another then minutes, add the dates and vegetable stock cube.
Next add the drained lentils, faro, can tomatoes and 1L of water.
Gently simmer for 45min until lentils and faro are cooked. Add the tomato puree and season further to taste.
Serve with a squeeze of lemon and more fresh parsley and coriander.