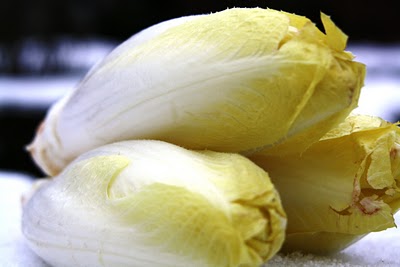 Nana where did you go?
Nana where did you come from?
You were unique, a pearl!
You found your oyster
Together you created a sea of luck, peace and love.
Your sea could get rough.
But your beacon cherished every single one of your children.
We lost Tapi in the storm.
You took over his torch with pride and an inexorable courage
Together we conquered many coasts.
You were part of us.
Each child, grandchild and great grandchild of yours has a heart of gold
filled with your golden glow
We went into all directions of the wind
But you remained our northern star
The memories are endless,
your sayings, your gestures, your habits…
You lived for us, in us and with us.
Nana where did you come from?
Nana where did you go?
Ariane Annicq 30/12/09
Today I won't bring you as promised the oyster velouté.
I bring some very comforting home food, because sadness knocked on our door last week.
My dear dearest grandmother, the one with
Anglo-Saxon ancestors
and the one that wasn't allowed to eat in the
student restaurant from her father
, passed away last week.
She chose the perfect moment; right after Christmas. She celebrated Christmas with every single one of her offspring. We were 24 in her house. It was all jingle bells and joy!
Just a couple of days later, 29/12, she finally joined her late husband after 28 years. The house she left behind was filled with affectionate love.
We spent the days after her dead in this lovely house. We found tender and console from being together in her house. We shared tears and laughs. We lit the fire. We sipped Porto (her favorite drink). We told long forgotten stories and went through faded letters and pictures.
Although she was old (90 wonderful years) and lived a happy and fulfilling life, the pain of losing her is there nonetheless. I feel broken, raw, my heart ripped out.
No matter what, you are never prepared for death.
It's so cruel.
The only thing you can do is find comfort in the warmth other people give you. Being with loved ones, especially your family makes the pain slightly more bearable. It helps you to process what you have lost and cherish what you received from her.
I bring you today her all time favorite recipe. I am also submitting it to a blog event called
Family Recipe
. A bloggers event dedicated to a recipe connected with memories, family and friends. I think it's a marvelous idea and this recipe certainly classifies in that category.
Belgian Endives in a cheese sauce. The slightly bitter endives are deliciously caramelized. Then they are covered in a luscious cheese sauce with some ham. They go in the oven to become a sinful gratin. It's perfect for the dark and cold days.
She could make it like no one else can. The best thing about her cheese sauce is that she makes it with bits and bobs of cheese she has left over in her fridge; blue cheese, Gouda, gruyere… Whatever is there in your cheese tray use it! This makes for interesting layers of flavor. You will never make the same sauce twice. You can never get tired of this!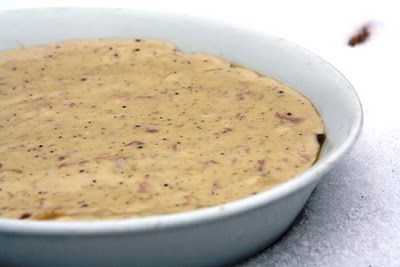 Whenever somebody was invited over, this is the dish they would be served with love and a smile.
And I can promise you, she had visitors by the dozen! She was the most sociable and entertaining person you can imagine.
For Nana her recipe to the world! We love you! Hear Hear!
Bright candle; our hearts burning
An endless smile; leaves your friends yearning
A generous soul shared through time
A phone-call and a sip of wine
So say it loud and make it known
We're proud to be the seeds you've sown
The future, present and the past
Fly on dear Nana
You're home at last
(adapted from Charlie Daniels)
For Nana, who traveled the world
and made lifelong friends wherever she set foot.
May she live on in our hearts and minds,
reminding us friendships make a lifetime.
Bruno Annicq 30/12/09
4 Belgian endives and a good knob of butter
30 grams of butter
1,5 tablespoon of white all purpose flour
300 ml of milk
2 large handfuls of grated cheese (whatever you have in your fridge gruyere, Gouda, Emmental, blue cheese…)
1 pinch of Cayenne pepper
1/6th of a bouillon cube
2 slices of cooked ham cut into small pieces
Pepper and salt
Preheat the oven to 180°C.
Rinse the endives and remove the core and outer leaves. If large ones cut in half. Put them on a medium to high heat with a knob of butter and season with pepper and salt. Slowly caramelize them on all sides. When caramelized add a cup of water and simmer for about 30 minutes on a medium high heat until they are soft. Add more water if needed.
In the meantime make you cheese sauce.
It's basically a béchamel sauce.
Take the butter and the flour and put in a pan on a medium to low heat. Make sure the flour absorbs all the melted butter.
When this is finished add the milk a little at a time. Stir continuously. Turn the heat up a little. And cook for about five to ten minutes but keep stirring so it doesn't burn on the bottom. Add more milk if it becomes to dry. You need a smooth runny yet slightly thick béchamel sauce.
When this is finished add the cheese and the seasonings: cayenne pepper, bouillon cube, salt and pepper to taste.
When the endives are finished transfer them to an oven dish keeping the juice aside. Add the juice to the cheese sauce along with the sliced ham. Give it another good stir and pour over the endives.
Sprinkle some extra grated cheese on top.
Put in the oven for 30 minutes until a nice golden crusts forms on top.
Serve with some sourdough bread to sop up all the lovely juices.