Mmm do you know what I mean?
Those little fragrant green beans. Steamed in their shell. Crunchy and juicy with the perfect sweetness. Balanced out by the fleur the sel on top.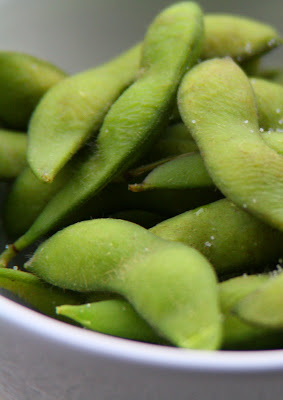 Edamame means "Beans on Branches". They are served in Japanese restaurants as an appetizer before you hit the sushi. It's a soybean harvested at the peak of ripening, right before it reaches the "hardening" time. East Asian kitchens are lucky to have them around for over two thousands years. The West is only slowly discovering them since the sushi hype.
I absolutely love them. They get your taste buds ready and tingly for what's coming next. They set the sushi mood. They relax the grumbling tummy's. Plus they are extremely healthy. Full of antioxidants and vitamine C.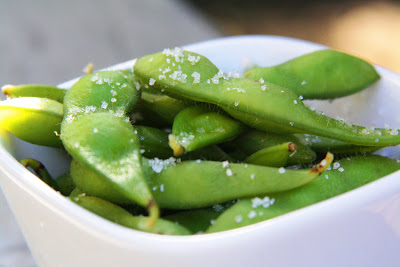 Where can you find them?
Well I never thought of having them anywhere else but in a sushi restaurant. But then just last week I was lingering in a very hip place right on the beach of Den Hague. And there they were, on the menu!
My eyes sparkled and my rumbling stomach purred happily. Yummy!
But oh no! The waiter kills my buzz in no time saying they couldn't get them anymore. Some kind of delivery problem. Okay no worries… I'll get them next time. But next restaurant same thing happens.
I immediately start panicking. Would this mean the world is out of this delicious green little gem? As soon as I'm back home I cycle to my shabby little Asian grocery store. Scan the freezer and there they are. My edamame, deep frozen but green and fresh. Ready to be steamed and nibbled by moi!
A quick internet research on edamame doesn't mention any shortage at all. So mental note: hip and trendy Den Hague restaurants are not a thrustworthy source for edamame!
Steamed Edamame
1 bag of fresh of deep-frozen edamame
Fleur de Sel or Sea Salt
Steam for 4 minutes.
Sprinkle with Fleur de Sel.
Go nibble: simply squeeze them out of their shell with your fingers and immediately pop them into your mouth.