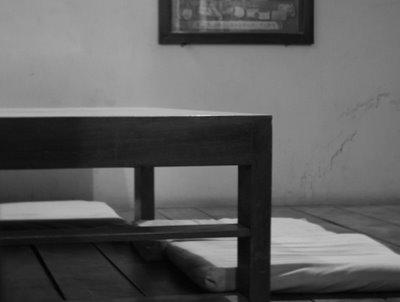 Ordered from one to ten, but really all of them belong on number 1
10. Ella wine bar
Only on the tenth place because we didn't actually try it out. We went there because Pierre, the owner, organises great but expensive ecotours (www.paneman.org). The location is beautiful. Hidden from the streets, you enter an oasis of peace and quiet. In a beautiful lush garden Asian platform beds are scattered around. The bar is underneath a magnificent old Khmer house on stilts. The music is Jazz and the wines are high quality. It's a perfect place to unwind after a long day at the temples (or the pool if you are feeling indulgence lazyish).
ELLA Wine & Jazz Bar, Trajan Pro, 300m west of Hotel de la Paix
Tel: +855 (0)92 410 200
http://www.jazzcambodia.com/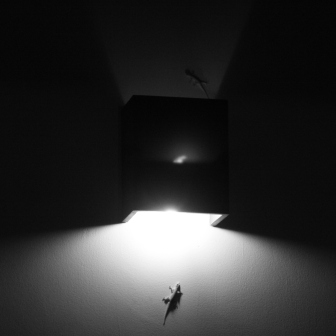 8. Sala Baï
Need to say no more I think. Check out previous post on fish Amok.
Sala Baï Hotel and Restaurant School, 155 Phoum Tapoul, PO Box 93071 – Siem Reap

9. Dim Sum Dumpling CaféThe ceiling is so low it makes us Western girls look like giants invading a dwarf's house. The setting is everything but cosy. Plastic chairs and tables, neon lightning, unsightly tablemats … So why is it in our top ten? Oh my god the dim sum is good! The fried spring rolls have the freshest vegetables inside. The steamed dumplings in spicy sauce are succulent and juicy. It's one of those dim sums where you actually taste every single ingredient that's inside rather than just having a bland purée stuffing inside.
Dim Sum Dumpling Café, 14 Sivatha Road
Tel: +855 (0)2 709 263
Tel : +855 (0)63 963 329
7. Curry Walla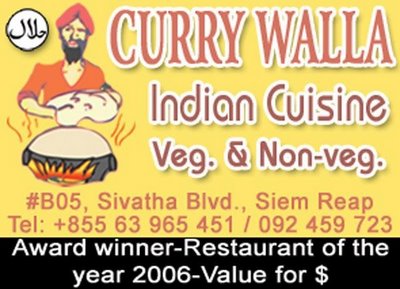 Best Lamb Korma ever. This curry with yoghurt gravy is refreshing, sour, spicy and sweet. The lamb gives it a nice deep meaty flavour. The chutneys are somewhat bland. But the garlic naan is delicious. The owners, two brothers, are very friendly and so is "the wierd mid-life crisis Lebanese man about to marry a 24 year old Cambodian girl". He is a regular and acts as if the restaurant is his and the two brothers are his sons, he is hilarious. With his gusto he draws in the crowds.
Curry Walla, Bo5 Sivatha blvd, Siem Reap
Tel: +855 63 965 451
6. Jardin des delices


It's the restaurant of Ecole Paul Dubrule. This is similar to the Sala Baï hotel school, except here students have to pay for their education or apply for a scholarship. Paul Dubrule is co-founder of the Accor Hotel Group. He inaugurated the school on 24/10/2002 at the end of an 8 month long bicycle trip from Fontainebleau, France to Siem Reap, Cambodia. The location is somewhat unfortunate geographically wise; quite outside of the city on the busy unfriendly road to the airport. But the property is beautiful. The buildings and interiors are what one expects to find in leading hotels of the world. And the food is simply divine. A set lunch is offered Monday to Friday. A three course meal at 11$ is prepared by the cooking, bakery and pastry students together with their teachers.
Our Menu du jour started of with a wonderful refreshing green papaya salad with dry shrimps. For main course we received a duo of two national dishes from Cambodia: steamed fish amok on one side and fried eggplant with chopped pork on the other side. The fish amok was prepared as tradition tells it: steamed in banana leaves. It makes for very out of the ordinary tastes. The fried eggplant with chopped pork is simply divine. It resembles a little bit the moussaka but this Cambodian version is so much better! For dessert we had mashed banana and rice ball dumpling, a perfect sweet finishing touch to this lovely lunch.
Ecole d'Hôtellerie et de Tourisme Paul Dubrule, Route Nationale 6 (Airport Road), Siem Reap
Tel: +855 (0) 63 963 672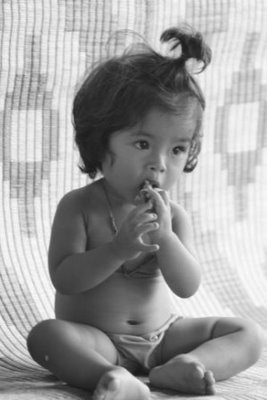 5. Silk LoungeSilk lounge is located in our favourite street, along with the Sala Baï, this newly opened restaurant is fantastic. It shows how young local talent can make nice things happen. The owner designed a cosy loungy restaurant, mixing modern with traditional Cambodian style. The food is incredibly fresh, Khmer, simple and delicious. The kitchen is immaculate. This family run restaurant lets you relax, enjoy great food and interact with the extremely kind owners and friends. It's what I would call a hidden gem! And even the prices are local (1.5-4$)! Silk Lounge, Taphul Road, Siem Reap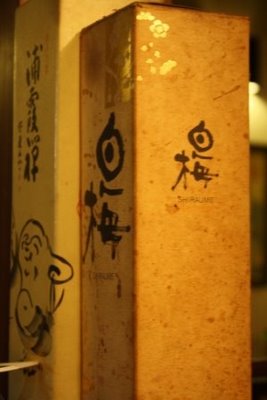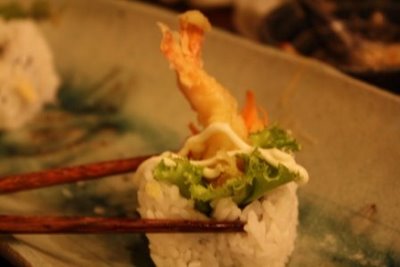 This is again not your obvious restaurant. It's hard to find. It's Japanese. It's simply divine. The California rolls are some of the best I've had. Although the pieces are a little bit on the big side, all the rest is perfect. The rice is cooked faultlessly. The other ingredients perfectly balance out the freshness and the creaminess of the California roll as we all know it. If you are only in Siem Reap for a couple of days I can understand Japanese is not immediately on your list of cuisines but this one I can highly recommend regardless of what is on your list.
Basho, Lane off Sivatha Boulevard, Siem Reap (next to Star Cell office off Sivatha Boulevard (turn right after the Acleda bank))

4. Basho
3. Chamkar
Okay so this one is obvious. Probably the only restaurant in this list that is actually in the most touristy street you have ever seen. It's located in the Alley/Passage behind Bar Street. The Alley is just as Bar Street. It's what you can expect from the name, it's a street with just one restaurant next to the other. Menus shout at you from all directions. It's nothing unique, it's mass tourism. But for this one restaurant I will put my principles aside and lunch or dine here anytime. It's a Khmer vegetarian restaurant. Now normally I'm not a big fan of vegetarian restaurant. I always associate it with tree hugger stews. But this one is nothing like it. It's fresh and it's inventive. They mix together unexpected tastes and ingredients to turn it into a success dish!
Siem Reap, The Passage – Old Market, Siem Reap
Tel: +855 (0) 92 733 150
http://www.chamkar-vegetarian.com/

2. Hammock people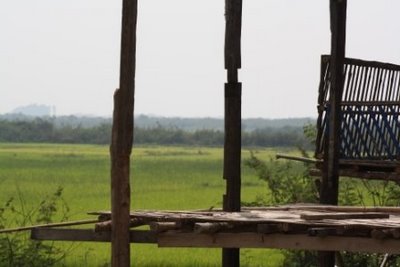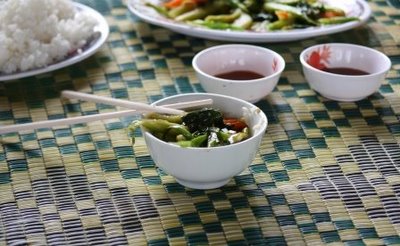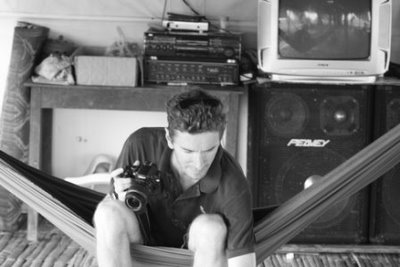 This place is perfect after an enchanting ride through Siem Reap village. (Siem Reap Village lies south of the modern town as we all know it. You start at old market and follow the river flowing to the Tonle Sap Lake. Leave the river on your right side while cycling through this authentic Cambodian village. Your heart fills with warm gold when you are cycling here as the children run out from every corner to say hello.) It's eating at the most family style possibly imaginable. Even though you arrive way past their lunch hour, they treat you like royalty and whip up something you will never forget. The host married a woman with gold kitchen fingers. She turns stir fried vegetables into succulent delicatessen. The catch of the day is deep fried to perfection and accompanied by a marvellous tamarind dipping sauce. You are eating in a house on stilts in the middle of the vibrant green rice flieds. Hammocks await you for digestive. Do I need to say more? This is heaven!
It doesn't really have an address. It's on the road to Phnom Krom and the floating villages. It's one of the first hammock restaurants you meet when leaving Siem Reap village behind you. It's right next to a little shop selling silk souvenirs.
1. Mama's fried rice!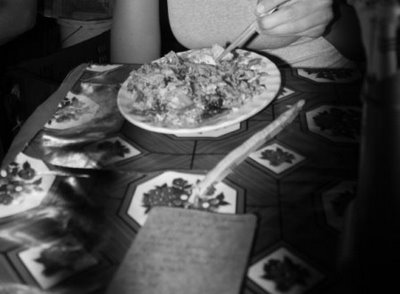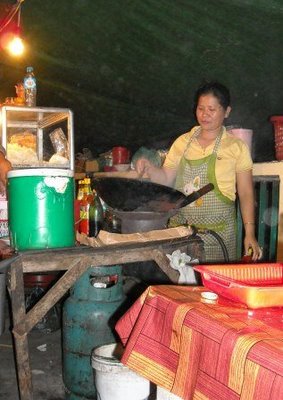 This woman makes the best fried rice in the world. She has one of the little street stalls just of Bar street. She and her husband work non stop from 5pm till 3 am. She is very competitive and ambitious. To the point were all her tables are full and waiting for their food; and still she waves and beckons people to come grab some food. She has a long menu of different sorts of stir fries and soups. But everything is completely freshly made to order in just less than 3 minutes!
There is nothing fancy here, it's dinner in it's purest forms, no trilala just jummy delicious! And all this for 1 dollar!
One of the street stalls on the corner opposite of The Red Piano on Bar Street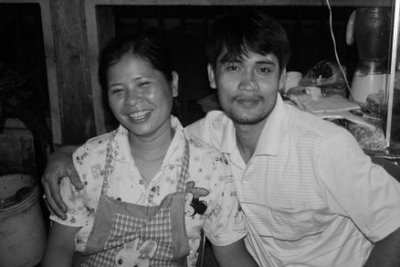 Mama's fried rice with pork!no more than 3 minutes once you have everything ready
Serves 1 person
Vegetable oil
1 egg beaten
100 grams of pork diced
Chopped vegetables such as Chinese cabbage, morning glory, spinach leaves …
150 grams of cooked rice
1 tsp of sugar
1 tsp of salt
Fish sauce
Chili sauce
Oyster sauce
Concentrated tomato pulp
Fried garlic
Get a wok on a very high heat. This dish is all about stir frying: high heat and constantly stirring. So get all your ingredients ready and start stir frying!
Put oil in the hot wok. When hot stir in the beaten egg. Next up is the pork. Fry until golden. Then add your chopped vegetables. Add a dash of fish sauce, a splash of chilli sauce, a gulp of oyster sauce, a spoonful of tomatopulp and the sugar and salt (to say in a jamie oliver way!). Let the aromas come out. Then add your cooked rice. Start really stirring and stamping around now, pushing your rice against the hot cast iron of the wok. Give it a taste and adjust the seasoning. Finish of with some fried garlic.
Enjoy! The best fast food I know!