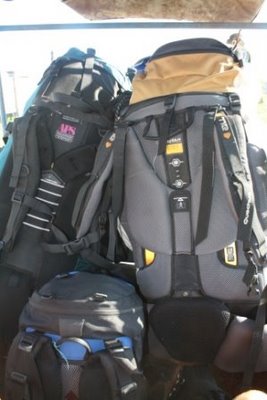 Back home…Landed in Helsinki first…
Was surreal… In the morning glory we approach Helsinki. From my little window I see miles and miles of whiteness… A snow blanket covers Helsinki! When I stepped on the plane it was 33°C. For 3 months I have been bathing in sweat. The little pearly sweat moustache on my upper lip became my best friend.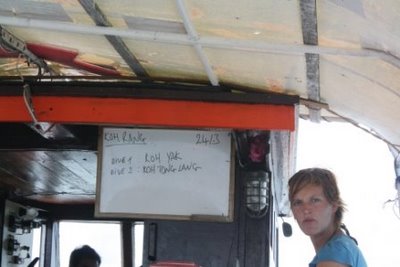 Our snorkelling boat with a very confused snorkeller Now after sitting twelve hours on a plane…
I had the worst seat in the world by the way: just in front of an exit.There is a subtle difference in name from exit seat. But in comfort there is a world of difference.Where an exit seat is defined as extra legroom and highly demanded. A seat in front of the exit consists of absolutely no legroom and impossibility to tilt back your chair. It's incredible what a difference an incline of even only 10 degrees can make. Sleeping upright just isn't possible. Every time you doze off and all your muscles start to relax, you loose the ability to keep your head up. So it falls and falls until you are abruptly woken up because it can't fall no more. Whereas when you are inclined slightly backwards the only direction it falls, is on your soft pillow. I finally understand where the expression "I'm going to rest my head" comes from. When lying down you are not carrying your head anymore and therefore you can doze of peacefully.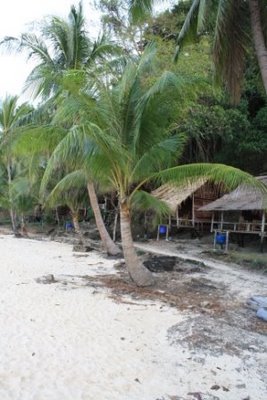 Koh Wai- The paradise- Beach bungalows
Anyway I'm getting really sidetracked here…
So after sitting twelve hours on a plane, I come to a total different climate and world.
Stepping out of the plane in my flip-flops and freezing my toes off, the strange encounters don't stop there. People are wearing thick skiing vests (so far okay), but the airport shops sell Christmas decorations and I almost trip over Rudolf the reindeer!
When I left this side of the world it was Christmas holiday and now I come back and it's Christmas again or still? I didn't miss anything I have the feeling! (Later I realise it might have something to do with being in Finland, homeland of Santa Claus…)
So what about culture shocks and all that? There were to things that shocked me the most the moment I hit western grounds. First of all; the toilet! I know… but I'm not going to give you a recipe at the end, so for once, the details… In an aseptic clean cabin I sit on a perfectly normal toilet. There is toilet paper and real one not the harsh newspaper kind, I can flush the toilet without having to throw a bucket in the toilet and there is running water and soap to wash your hands afterwards. And you know what my feelings were? Not those of joy and happiness, but actual sadness, I missed the Cambodian crooked toilets already! Somehow those crooked toilets were so integrated in my life there that it became my new standard. And I had accepted these adventurous toilet escapades with enthusiasm.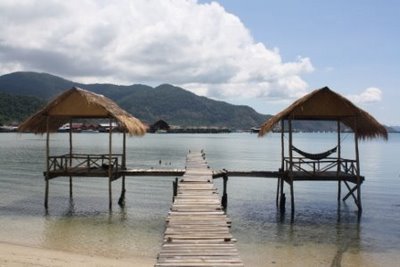 Bang Bao – Koh Chang
Second observation that shocked were the contents of the shops. I just knew most of the things for sale in those shops were made in another world. It felt so frustrating and outlandish to see these goods of desire being sold for rocketing prices. Knowing they only cost one dollar back in Asia, knowing the workers barely earn enough money from it to run a household. After short but abrupt acclimatisation in Helsinki, I continued my journey homewards and fell into the arms of my loved ones. Just for this I would do it all over again!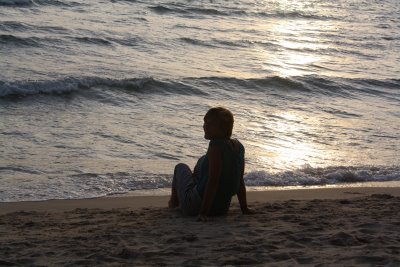 What we did before arriving home…
We left Phnom Penh behind the night after the marvellous wedding. And we headed to the coast. During the last week we promised to transform ourselves into the hottest beach babes of South East Asia.
First we did Sihanoukville with friends. Don't expect anything else but party there. The tourists actively lower they IQ to 50% by drinking themselves into permanent brain cells killing state. But for two days this was good fun.
Then we bussed and ferried to beautiful Koh Chang. A Thai island just passed the border with Cambodia.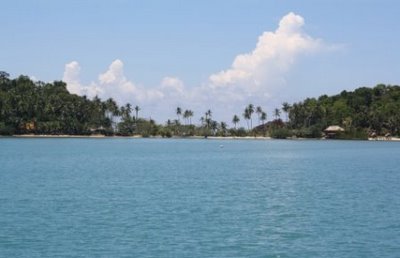 Somewhere on the right on the cliffs is Cliff's cottage! Goodluck spotting it!
Koh Chang is supposed to be the next Phuket so developers and destroyers are running overtime. It's beautiful when you find the untouched spots. We left the strips of party beaches and grand depressing resorts behind and drove all the way south to Bang Bao, a small fishing village on stilts. Although the pier is also as touristy as you can get, the rest is nice and peaceful. We stayed in Cliff's cottage, very basic cabins on a cliff, no other houses around and lovely views. Although the bed is highly uncomfy, the rest is a great escape from live.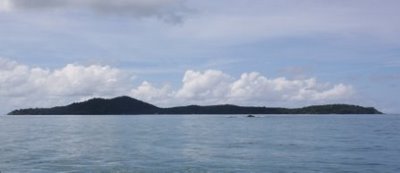 But our best of the best escape was Koh Wai. After a long snorkelling day and delicately burned butts, our diving boat dropped us off at Koh Wai, one of the smaller islands around Koh Chang. A shabby wooden pier leads us to the island and one of the three guesthouses. We stay in the Paradise bungalows. It's seventh heaven! Clean wonderful wooden bungalows stand at the edge of the beach between the palm trees. A very kind Thai brother and sister run the place. A cosy bar and restaurant stands between the bungalows. Electricity is only available from 5pm till 11pm.

When you go out into the water first 5 meters are okay but then get out your snorkelling goggles. Because the coral, the thousands of colourful fishes and especially the very spiky sea-urchins are a few of the things you wouldn't want to miss (or in the case of the sea-urchins, brush against to).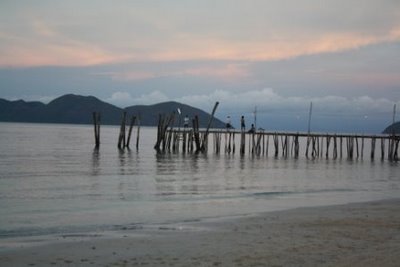 And there is the view… It's breathtaking, it's like a movie, it's paradise, it's better than any postcard…and it's our view!! From your bed, you only hear the rushing sound of the sea. After 11pm all is quiet and dark and you see stars beyond the stars beyond the stars.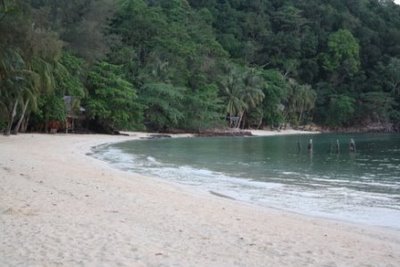 Just nature: the jungle, the white beach, the crystal blue water…
Not ruined by man kind; I pray that man kind is smart enough to keep it like this. Because all the misery of the past months just washes away from you in a pure and simple place like that.