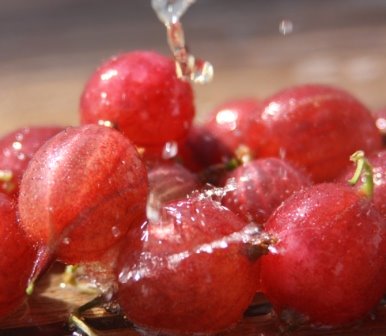 We stick to berries!
But different berries and different setting.
We are in Bretagne sailing on our Swan 43. Bay hopping, from one idyllic medieval harbour to the next bay… The rugged coast of North Brittany is striking. Navigation between the numerous rocks and islands is tricky especially with a tidal difference of 12meters and up to 6 knots of current. The weather does not resemble anything summery. Gale warnings, rain (not just a drizzle more like pouring rain), cold winds… But still we enjoy every bit of this trip.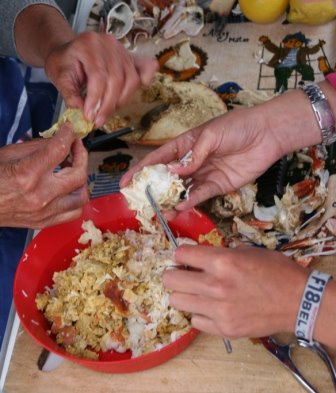 We especially enjoy the local food. Oysters, langoustines, mussels, lobsters, crabs… are up for grabs here by the dozen. We all switched to a 'Pelican diet' some might say. Maybe yes, but it's too good to say no!
And then there are the farmers markets that seem to follow us around. As by chance, every harbour we end up, the weekly farmers' market awaits us. And we start to know the vendors as well; from the lovely Isabelle with beautiful baby artichokes to the cheese guy, the salt girl and of course the berry guy.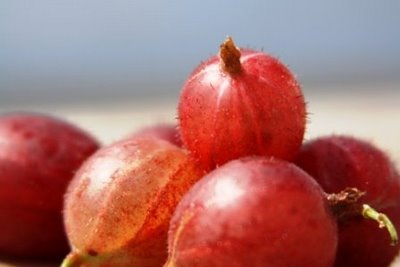 He had beautiful cassis/black currants and gooseberries yesterday. We couldn't resist and practically bought his whole stock. Mind you it was the end of the market but still.
We have the cassis in the morning mixed in our muesli. Delicious! And the gooseberries… oh oh no we didn't… oh yes we did! We made a "taartje" (une petite tarte, a marvellous little pastry).
We were anchored in a secluded spot at the estuary of
Tréguier
. It was one of those days on board I just love. The anchor spot is deserted, you feel alone on the world. Every now and then a lonely fisherman would pass by. Out at sea the wind is blowing strong. Here, protected by the land, all is quiet. The waves happily babble against the hull. And in between the rain spells sun would come out. As the tide goes out we discover that we are surrounded by oyster beds! Did we die and go to heaven?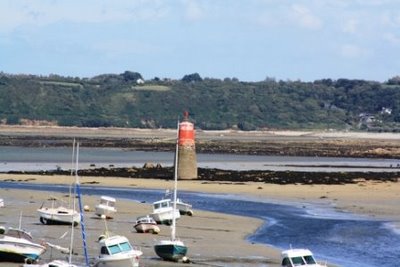 So what do you do when anchored in the middle of nowhere? Aaaah this is the best part! Absolutely nothing! You cook, you eat, you drink, you chat, you read, you rest, you make a monkey fist for a keychain… absolutely not a worry in the world!
Except we didn't have white flour for our gooseberry pie, only whole weat flour… Oh well, healthy can work to right? And it did. Although, if I would have white flour in my hands, I would mix both to get the right balance. The whole wheat flour gives a wonderful extra crunch.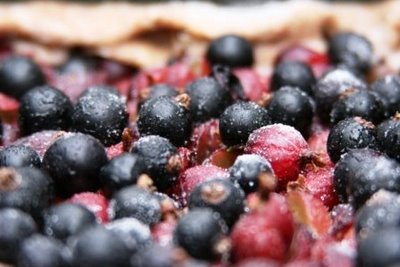 For the pastry we used a recipe from our grandmother.
Granny used it to make the best 'carré a la confiture' in the world. It's a quick and easy version of the millefeuille. When we were little on Sundays she would come for lunch with a big ball of her dough. She would make it at home in the morning because her specific instruction were that it needed a rest for at least two hours. Then when she arrived at our house, under the watchful eye of my sister and I, she would roll it out wafer thin and make her pie. My sister was particularly interested in the uncooked version and the leftover of the dough. I preferred it straight out of the oven.
Don't know what Granny would say about the whole wheat flour though. But I think it gives an interesting texture to the pastry. It also makes good comfort food which is what we could use with all the rain. Hidden away in the cockpit under our blue rain tent in these magical surroundings with a cup of tea and our gooseberry and cassis pie… This is English high tea at its best!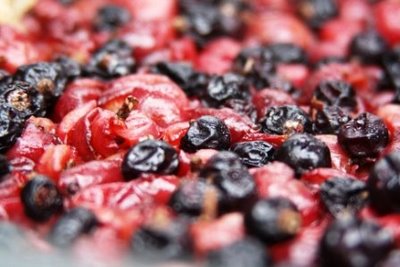 Gooseberry and cassis piePastry
Adapted from Granny Annicq
Makes 2 pies
Works with pretty much anything. Can be stored in the freezer for up to two months.250g flour (white or whole wheat)
125g butter (at room temperature)
68 ml water
With the tips of your fingers, mix together the flour and butter to a crumble. Then sprinkle the water over the crumble let it rest for a minute and gently shape into dough. Try to knead as little as possible to keep the flakiness and avoid chewy dough. Let the dough rest in the fridge at least an hour.
Gooseberry and Cassis Pie
By Ariane Annicq
Get a non-stick pastry tray and grease it with butter. Then sprinkle a very thin layer of sugar over the butter. This will give a delicious caramel crust. Roll out the pastry as thin as possible and line the tray with it.
Wash the gooseberries and cassis. Cut the gooseberries in half lengthwise. Cover the pastry with the berries. Finish with another sprinkle of sugar over the berries. Put in an oven of 160° for 40 minutes.