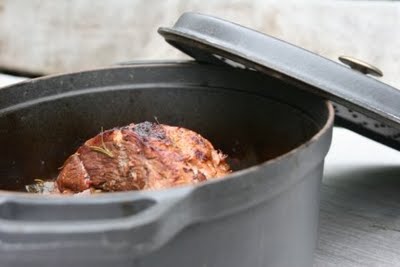 Winter days… Aah, the roasts and the braising!
Did you know I have English roots? My great great grandmother is English! Don't act so surprised; you must have noticed my Anglophilia…
My love for G&T's, Jamie Oliver, apple crumble, the English language, high tea with scones (to be posted soon!!!), the rough yet wonderful English sailing conditions and Georgina is undeniable! When you read this blog roll little Anglo-Saxon clues and cues pop up everywhere.
And so here is another post about something English I love…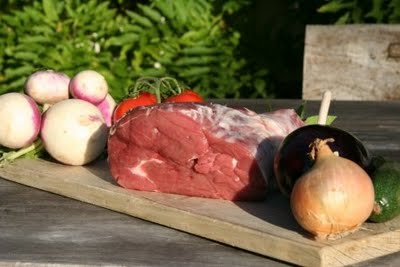 There are many reasons why I would prefer living in an all year round sunny and warm country: I don't like to wear trousers. I'd rather wear a nice fluffy skirt. It's like Joey (from Friends of course) once said: "Jeans have no give!"
I hate closed shoes. I love flip-flops. In winter it's bye-bye to pedis.
Leaving for work and it's dark, coming home from work and what do you know…it's dark again! How dreadful to live without a ray of sunshine.
On a vain note; I lose my tan. On a painful note; my hands crackle up in the winter (a no go when working in hospitals with antiseptic alcohol!)
But despite all this, a seasonal country is still the place where I wanna grow old and crooked.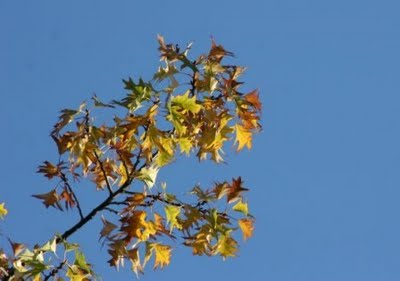 A crisp ice cold winter day with a clear blue sky and colourful autumn leaves can make me as happy as a warm breezy summer night. Especially when that day is Sunday!
On Sunday God created the English and the English invented the Sunday Roast. A magical meal where young and old gather around the table with the open fire crackling in the back. The pater familias carves the meat. Mother serves the roasted vegs and potatoes. Granny stacks up on the gravy.
Many countries have their roasts and Sunday lunches but the English have the Holy Grail of Sunday lunches I believe. Probably it's the bad English weather but they just know how to forget winter and bring warm rays of sunshine and love in the house.
So when last Sunday the sky was crisp blue I just had to get out this lamb shoulder and roast it to perfection.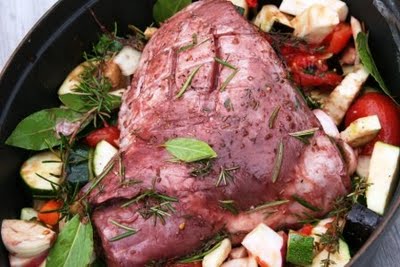 I did more a sort of braising than a roast to keep it moist and soft but feel free to do this recipe without Le Creuset lid or tin foil and you have a roast.
I marinated it in red wine, balsamic vinigear, garlic and herbs overnight. This marinade gives your meat a wonderful earthy yet refreshing taste.
The recipe is a one pot recipe so not a lot of effort. All you need is a nice warm oven. For me this is the best way to have a big sunday family lunch and stick to the golden lazy sunday rule!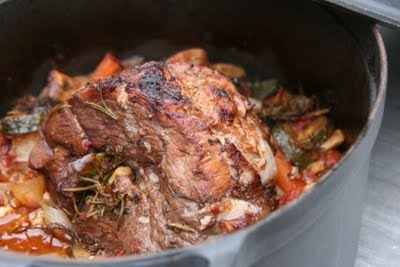 1 leg of lamb or lamb shoulder, about 1,8kg
Herbs preferably fresh: thyme, rosemarin, bay leaves
4 tablespoons of balsamic vinigear
1carrot
1 parsnip
15 small potatoes
1 tin whole peeled tomatoes
a pinch of crushed cumin seeds and corianderseeds
Put the lamb in a big freezer bag, add the wine, the balsamic vinigear, the smashed garlic, the herbs, salt, pepper and crushed seeds.
Seal the bag, mix the ingredients around. Make sure every inch is covered with the juicy marinade. Leave in the fridge overnight or at least 2 hours.
Preheat the oven to 180°C.
Get a big ovenproof dish or a le Creuset pot. Roughly chop up all the vegetables except the potatoes. Put all the vegetables, the potatoes and the tin of tomatoes in the pot. Drizzle with olive oil. Add the meat and the juices of the marinade. Season again generously with salt to form a nice salt crust on the meat.
Cover thightly with tinfoil or a lid if you want to braise it or leave uncovered if you want to roast it. Put in the hot oven for 1hour-1hour and a half.
If roasting remember to baste frequently.
If braising take the cover off for the last 10 minutes and put the grill on to get a crust.
You get a delicious thick stew in the base and succulent meat on top. Serve as it is on hot plates.