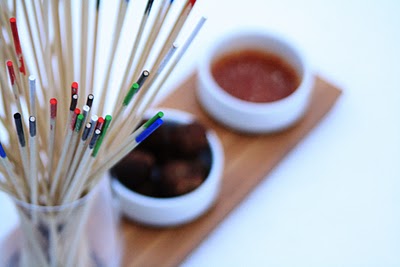 Christmas time… I'm a giant fan.
Not only do I love the Christmas tree with the beautiful lights and homemade ornaments.
Not only do I like wrapping and unwrapping presents. (I might even say I like the first one the most!)
Not only do I love time with beloved ones and family.
But it's always a great occasion to disappear in the kitchen for the whole day and create a mouth-watering Christmas Eve dinner (click here to see what we had last year). This year I was lucky enough to be able to host three Christmas dinners in a row. Some people might call it a lot of work but no worries I took a couple of days off at the hospital to enjoy this work to the fullest! It's a moment when I can let my creativity flow unlimited. It's an occasion to buy special ingredients. It's an occasion to have dinner in all its grandeur with candles, silverware, fancy china, good wines and love…

And to top all of this loveliness, the children's hospital of University Hospital of Ghent launched a big cooking contest for a good cause just last week. Eight teams of renowned professors, interns, residents and attendings transformed into kitchen princes and princesses. It was the summit of holiday joy. A humming kitchen was buzzing with laughter, sizzling pots and pans, flavorful aromas and hungry bellies.
We organized this event to raise money for orphans of AIDS victims. Every year our local radio station Studio Brussel organizes a big fundraising event the week before Christmas called "Music for life". Three top radio personalities lock themselves inside a glass house for 7 days. They live on smoothies and play music on request. When this event was first organized in 2006 it revealed how creative the Flemish community is. We showed the world that you can do so much more to collect money than pay to hear your favourite song on the radio. People run for life, build for life, bake waffles for life, sing for life, kiss for life, shout for life, shave for life, quizz for life … anything; you name it! And so is our children's hospital on track in organizing side events. Last two years they did a giant bed race. And this year we organized our own mini Master Chef.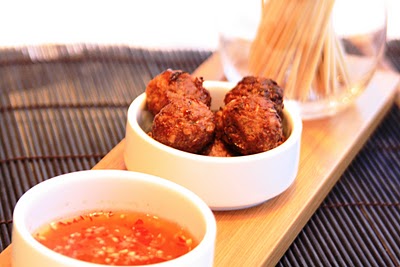 Our team brought South-East Asian flavors to the event. We made Thai meat balls with an Indonesian dip sauce and Malaysian Laksa Lemak. Some ingredients were even freshly flown over from Bali! It was all very exotic!
On request I'm sharing the Meat Balls Recipe with you today.
Note: Music for life 2010 collected 5.020.747 euro's for orphans of AIDS victims.
Congratulations to generous Belgium!
Thai meat balls
By Ariane Annicq
Makes about 60 small meatballs
500g minced meat
5 cloves of garlic, crushed
2 small shallots, chopped finely
1 lemongras, chopped finely
1 red chilli, chopped
1tbsp of palm sugar
1 tbsp of fish sauce
½ tsp of five spice
1 handful of candlenuts
1 tbsp of milk
1tbsp of tomato ketchup
A handful of fresh coriander chopped
A thumb sized piece of ginger grated
1 cup of bread crumbs


Slow fry the onions with garlic until translucent and let them cool down for a couple of minutes.
In a large bowl mix together lemongrass, chilli, palm sugar, fish sauce, five spice, candlenuts, milk, tomato ketchup, coriander and ginger. Add the onions and garlic. And finally add the meat and the breadcrumbs. You should have a sticky but firm mixture. If it's still too wet add more breadcrumbs.
Bake in a preheated oven of 180°C for 25 minutes until golden.
Serve with dip sauce or peanut sauce as an appetizer.


Dip sauce
1 stalk of lemon grass, finely chopped
1 red chilli
1 tsp of palm sugar
1/2 tbsp of fish sauce
1 tbsp of rice vinegar
Combine all ingredients and dip away!