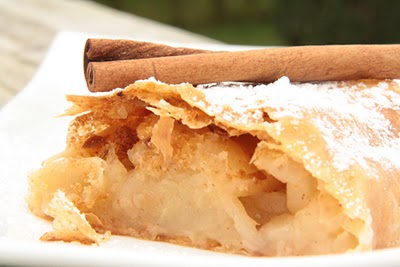 I don't know about you but I never thought of Vienna as a high ranked foodie town. I mean I have been longing to try the world famous Sachertorte. Although I've never had one myself. I only knew about it by reputation. I only read about it in novels and magazines. Out of desire I finally tried making one myself. I found this amazing recipe on one of my top foodblogs (http://www.chubbyhubby.com/). The result was stunning! Airy chocolate cake with just that perfect tangy bite to it thanks to the apricot jam and a moist thin chocolate glaze on top. So I couldn't wait to try the real thing ever since.
But other than Sachertorte, Vienna was pretty much off my foodie-radar until now.
But we had a stunning weekend in Vienna. And thanks to (again) Chubby Hubby's Vienna guide also a delicious one!

The "excuse" for the Vienna trip was this winter ball a friend invited us too. Yet another unbelievable thing I discovered about Vienna. Apparently in "ball season" (from end of December until March) there are over 150 balls in Vienna! Ranging from The Ball der Wiener Philharmoniker to the 16th district police officers ball. So far surprising but still okay. But then are you ready for this…
It's an actual ball…in a stunning ballroom…with proper orchestra and ballroom dancing.
It was like stepping into a Jane Austen novel. Surreal!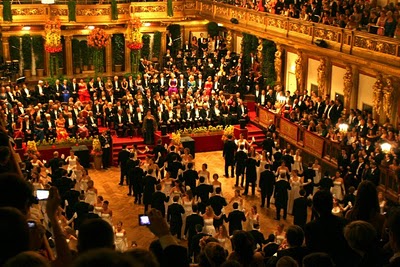 (picture taken by Erik Holthe Eriksen)
The ball goes on until 5am. And then the most jaw dropping thing happens. All these impeccably dressed up people go for goulash and torte (cake). The lobby of the Sacher and Imperial hotel is packed with ballroom dancers still looking as stunning as they did when the night started. I had to pinch myself several times to make sure it wasn't a dream. I haven't seen anything like it. And nobody is drunk (or acts drunk!)!
The foodie highlights of Vienna were Apfelstrudel and Wiener Schnitzel.
A proper Weiner Schnitzel is unlike anything you had before. Very tender veal is cut thinly. Then it's tenderized even more with a meat hammer. Around it is a crust of breadcrumbs that is ultra crisp. The secret is to actually let the Schnitzel float in the frying oil and butter I believe. It becomes airy and fluffy crisp. It's delicious.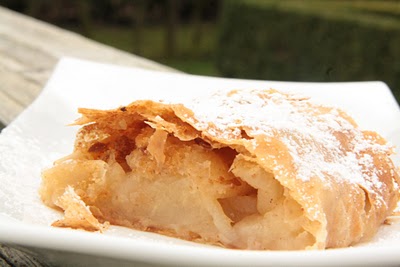 Apfelstrudel is another one of these things that entirely depends on the excellence of your cook. Basically it's a pile of apples with a very crisp and airy pastry wrapped around.
We had an apfelstrudel quest in Vienna and unanimously agreed the best one was in cafe Hawelka. Steaming hot, nice sour apples, the right touch of cinnamon and a hint of soggy "doughiness" we actually loved. Not like the one in the Sacher Hotel that was extremely dry and tasteless. When I did my research to make my own I found out this subtle detail. To my amazement the pastry is not millefeuille but filopastry! This guarantees the light crispness of your dough on the top side and the sogginess of your dough on the bottom were all the apple juices are absorbed into your filopastry layers. It's heaven! Thanks to "The Passionate Cook" I ventured into making my own filo pastry. It seemed impossible to make a pastry so thin you can read a newspaper through it! But here you can see the results yourself. (Note photography technique inspired by Tony Le Duc)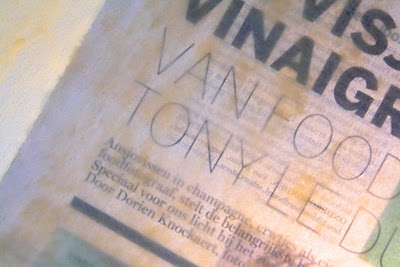 To end on a negative note for Vienna. The Sachertorte in the Sacher hotel totally sucks.
It's dry and it weighs a ton. The chocolate to apricot ratio is totally of balance.
And instead of a succulent moist dark chocolate glaze on top, it's a dried out milk chocolate cover.
It was an absolute disappointment. But just today I discovered my favourite mountain restaurant does know how a proper Sachertorte is made. So not all is lost… When I'm too lazy to make my own I can always come here!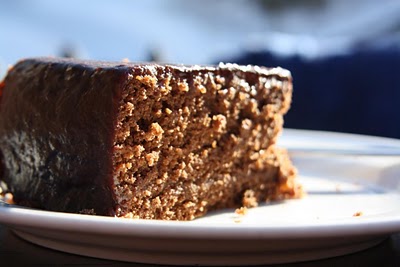 Viennese Apfelstrudel
adapted from The passionate Cook

(serves 8)
For the dough:
250 g flour
125 ml water (warm)
1 tbsp oil
1 egg
pinch of salt
flour for dusting
butter for resting
oil for resting
For the filling:
1.2 kg apples, preferably slightly sour
100 g caster sugar
100 g breadcrumbs, perferably brioche
150 g butter
1 tsp ground cinnamon
juice of 1 lemon
icing sugar for sprinkling
Put the flour in a small plastic bowl, add the salt, oil and egg and combine. Gradually add warm water and knead, using your mixer or a food processor, until you have a smooth dough which doesn't stick to the bowl. You might not need all the water, the dough shouldn't be sticky. Form a ball and brush thinly with some oil. Leave to rest for half an hour.
In the meantime, prepare the filling. Brown the breadcrumbs in a pan, without using any fat.
Peel and quarter the apples, then cut into thin slices (ca. 2-3 mm). Marinate them with the sugar, lemonjuice and cinnamon for about an hour.
Spread an old cotton sheet on the table and sprinkle with flour evenly, lay the dough on top, sprinkle it with some flour and roll it out evenly using a rolling pin. Brush thinly with melted butter and leave to rest for a few minutes, covered with a cloth. Rub your hands with flour and, passing the dough over the back of your hands and wrists, stretch the dough (you'll have to work fast) until it becomes transparent. If the dough get to big to handle lay it on a table and let it hang over the sides so gravity can do it's work. Don't worry about the occasional hole, but make sure you don't get too many of them!
Lay the dough on a sheet of baking paper, sprinkle with melted butter, the breadcrumb mix and the apples. Then cut off any thick ends, and, lifting the sheet in stages to successively fold the dough and filling over, create an even roll of about 10 cm width and 8 cm height. Brush with some melted butter. You can, at this point, cover the strudel up with some cling film and reserve until you're ready to bake it.
Pre-heat the oven to 220 C and bake the strudel for ca. 25 minutes, until golden brown. Serve warm sprinkeld with icing sugar. It's so succulent it doesn't need anything else.