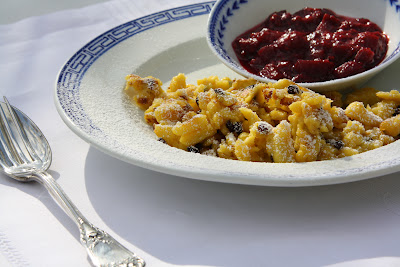 One snowy country isn't enough for me.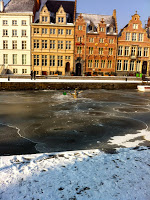 Ghent- January 2012
So we packed our bags. 
We stamped our tiny little car full.
— Quick question… How do you get 4 girls with luggage, 1 snowboard, ski boots, culinary essentials and a manicure set in a Renault Clio? You call your darling uncle cookie-monster to borrow his skibox and you bring him a portion of the Kaiserschmarrn when you're back! —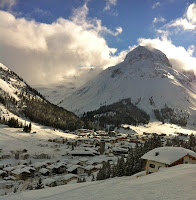 Lech- February 2012
Fully, I repeat, fully packed we drive off to Austria. — And if we were to wonder why we are the only Clio, between Touaregs, Audi's, BMW's or Volvo's heading towards the Alps… Think again when you are climbing up the mountain in second gear. The luggage didn't help of course! —
—Last anecdote on the trip… It was bound to happen with 4 girls in a car. But we actually managed to drive 180K of 850K trip through das Schwarzwald behind a tractor!—
When finally arrived in the promised land the adventure could begin. 
I won't bore you with descriptions of
-Marvelous scenery
-Generous friends' parents
-Double rainbow snow
-Argentinian jumps
-Royalty trivia
-Tango dancing in the snow
-Raclette food-coma
-More snow, powder snow maximus
-Warming Glühwein
-Laughing your butt off 24/7
-Nightly sledge rides
-Kamikaze skiruns
-…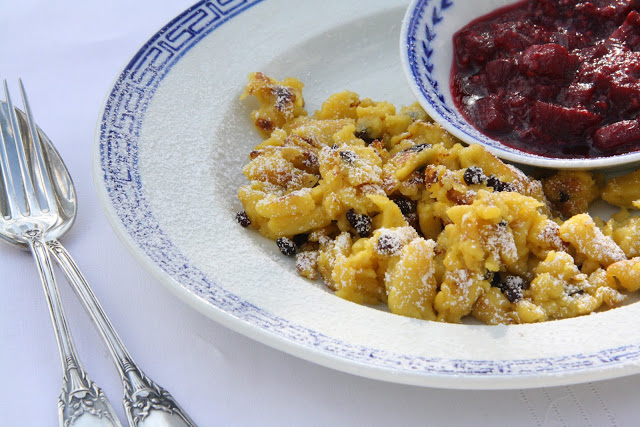 But I will tell you about this new dessert I discovered.
Kaiserschmarrn is as rich as its name (Kaiser=Emperor). Soggy thick pancake cut up in pieces finished off with icing sugar. Served with plum compote or any other compote for that matter. I used rhubarb and raspberry compote that was very nice too!
It's perfect after a long day of skiing. Or even as a lunch.
I promised my companions I would try to make it for them again at home. Cause what idiot would want to wait another year before you can eat this sinful dish again!
Back home, back to reality, I knew immediately whom I should turn to for a recipe.
Deliciousdays.com
! I trust Nicky and Olivier blindly when it comes to good food! And I must say it's even better than what we had up in the mountains! You see, it's not all bad coming home!
Kaiserschmarrn
raisins soaked in rum/water
half vanilla pod, slice lengthways
-Soak the raisins in a warm rum/water bath for approximately 5 minutes. Drain and pat dry.
In a medium bowl, beat together the eggs, milk, a pinch of salt, sugar, and vanilla. Gradually stir in the flour. Once well blended, add the raisins.
-Heat larger pan and add two tbsp of butter. Pour batter into the pan and bake for 5-8 minutes (depending on heat). Check every so often to see if it gets solid at the bottom. Don't worry about making a mess :), eventually this super sized pan cake will be torn into pieces anyway. Be careful though to not let the bottom burn.
-As soon as the bottom side develops brown patches and the mass starts to solidify -not all the way just yet-, try (!) to turn the pan cake and then start breaking it up into larger pieces, they'll turn to bite-size pieces in the process anyway. This is really the chaotic part, as the top was probably still liquid. Turn the heat up to brown the pieces on all sides. Turn the Schmarrn frequently for a few minutes. It should not become dry, however.
-Now comes the critical part, which can make or break a good Kaiserschmarrn. Since there isn't a lot of sugar in the first place, sprinkle a layer of icing sugar on the Schmarrn and turn it until the sugar turns into glaze.
-Arrange on plates with a little more icing sugar (more for the looks) and serve immediately, preferably with some homemade Zwetschgenröster (a traditional plum compote).