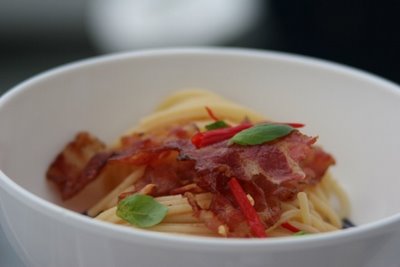 If you would think summer cruise meant summer sailing, shorts and tank tops, a beautiful tan, al fresco dining… think again!
This is the north sea and the atlantic ocean we are talking about. If you see the coast line, it kind of predicts the roughness of it all…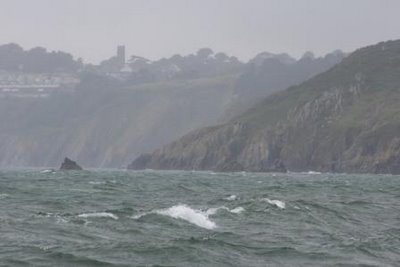 We arrived in Dartmouth on Friday around midnight with a wind average of 25 knots blowing us into the river Dart. Twenty five knots is a force 6, or what they call a strong breeze. Things would be ok if the strong breeze came on its own… but there are the 4-6m waves … there is the wintriness…there is the rain… and there is the poor visibility.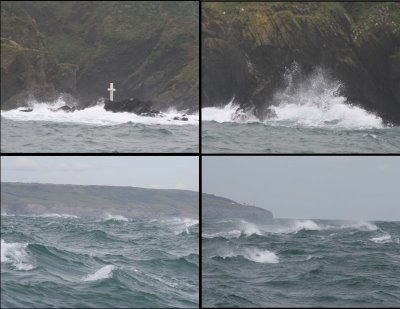 All these factors make sure that whoever is commanding that little ship in those powerful forces of nature is on high alert. There is no time for sleep, a good book, a nice meal…
Saturday and Sunday despite some crewmembers being very enthusiastic to keep going, we sat out the storm. Saturday was a day of pouring rain non-stop, like we say in Dutch "it's not even weather to hurl in a dog". Some people didn't even leave the 12m² of the boat. Thank god Sunday brought us a force 8, occasionally 9, but being true to its name, Sunday brought us sun!
Weather forecast for Monday: W-SW 6-7 occasionally 8, sea state moderate or rough, occasionally showers, visibility good. We are optimistic. It's only occasionally 8, sea state has changed from "very rough or high" to "moderate or rough" and visibility is "good". What more can we ask for? Oh right… there's one more thing…maybe the wind could blow in the right direction, instead of blowing straight in the nose? Our prayers are heard… With some adjustments to our sailing course we can sail at a 40° angle of the wind. But the strong winds make the boat also heel at 30-40°! That's a pretty steep hill to walk on!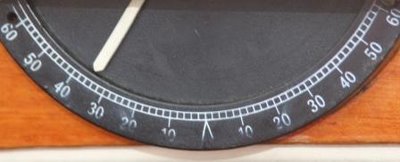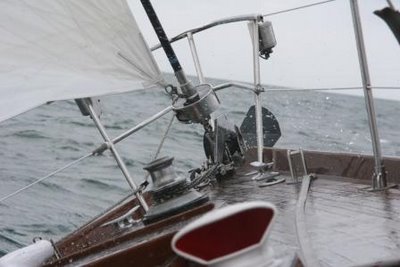 This would all be ok, if it was only for a couple of hours. Just hold your breath, cross your fingers and wait for it to come to an end.
But what if this is a 13 hours sailing trip? It doesn't suffice to just hang on there. You would have to have super powers to hold your breath for that long. You have to kind of find your peace. Go along with the motions; accept it as your new state of living for the next 12 hours. And so you have to continue your daily activities, such as brushing your teeth, powder your nose, read a book and have some decent food, even the apprehensive captain!
Now to say it's not easy to cook in these conditions would be the understatement of the year… You're heeling at a 30-40° angle, the galley is 2m², working-surface is 0.50m², some waves are so rocky they send drawers flying in the air…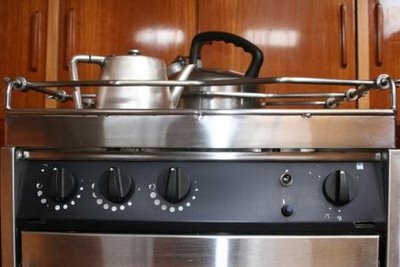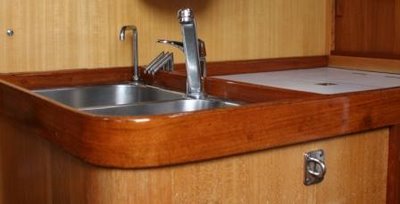 Though the galley has some useful accessories to cook in these conditions it remains a rocky ride…
Fiddle rails built on top of the stove guarantee your pots stay put.
And a gimbaled stove has its axis in the length of the boat so that it can swing as the boat rolls or is heeling at say…40°! This means you can have a go at horizontal cooking in these tricky conditions. But this also means the cooking platform is a constant unstable dangling thing! You pick your favorite!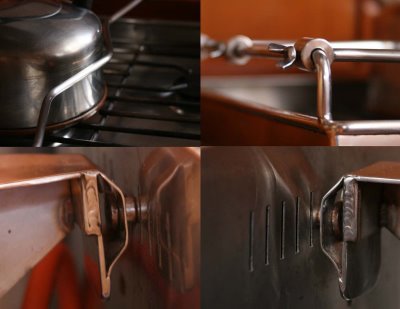 Luckily we found our perfect rough sea dish. It charms the hungry, slightly upset stomachs every time…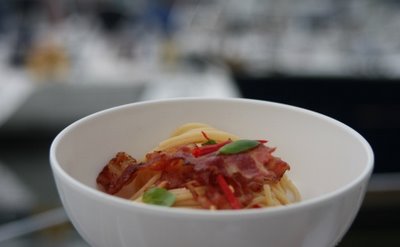 It's pasta alla carbonara mum's way. It's easy, it's quick, and it's minimum effort maximum output!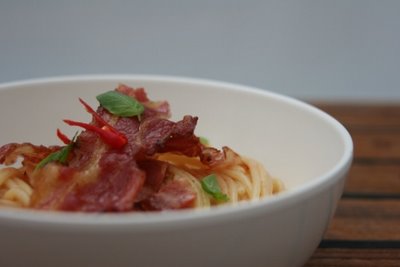 Mum's Pasta Alla Carbonara
Serves 5
Ingredients:
Bacon diced
10 Cherry tomatoes
500g spaghetti
3 eggs
350ml milk
200g grated cheese of your choice (pecorino, emmental, gruyère, gouda…)
Pepper
Salt
Knob of butter
½ teaspoon Cayenne Pepper
½ teaspoon nutmeg
Cook your pasta al dente. Drain the pasta in a colander and keep aside. In your pasta pot quickly fry the diced bacon in some butter until crisp. Add the cherry tomatoes and fry for another five to ten minutes on medium heat.
In the meantime take a large jug to crack in the eggs, pour in the milk and incorporate the grated cheese. Mix everything thoroughly until the slimy wobbly bits of the eggs have disappeared. Add half a teaspoon of cayenne pepper and freshly grated nutmeg. Season with pepper and salt.
Add your pasta back to the pot. And then, on a very low heat, slowly incorporate the egg mixture. Watch out make sure this doesn't come to the cooking point of the eggs; then you would end up with a huge "pasta-omelet-cheese"-mess!
Serve immediately. Out in the rough sea, bowls are ideal! Some spice lovers might love a dollop of Sambal to finish off.