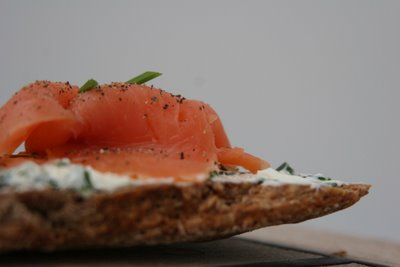 Last week I had the opportunity, the infinite luck to deliver a brand new Swan 42 from Genoa to Palma de Mallorca.
The New York Yacht Club and Nautor Swan teamed up to produce this beauty.
The goal was to design a boat that was "winning-regattas-fast" but also "comfortable-cruising-fun".
I'm only a mere mortal so I'm not allowed to test out the fast part, but I did have the honor to test the fun part.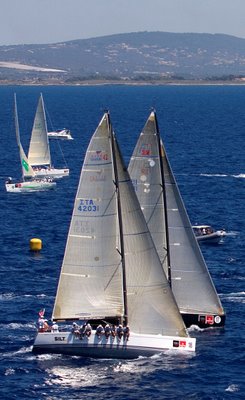 copyright Pedro Martinez, Copa del Rey 2008
With grand expectations I went to my newly appointed yacht. For the first time in 24 years I would leave the safe boundaries of our own 39 year old Swan… I would discover this youngest acquisition of the Nautor Swan group…
Arriving in Genoa was a breath of refreshing hotness. For the first time this summer I got out my shorts and tees.
Two very fine-looking Italians were awaiting my arrival.
And this is where this blog fits in…
Cooking wise my expectations were extremely high! Two Italians… two Romans… two grand chefs… both in love with Italian food… Italian food is for them "the holy food no other country can equal nor touch"…
They were still totally upset about my mum's version of pasta alla carbonara. Being originally from the hot streets of Rome (both my guys and my carbonara); I had prepared myself for some kind of critique. And now I would have the opportunity to compare the original with the experimental version.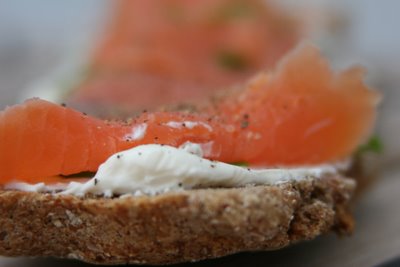 However, one small detail was overlooked, both by the Italians and me…
This is a New York Yacht Club racing cruiser; and for our owner definitely more a racer… I think if we would ask him he would say: "What? A cruiser? What does that mean?"
So the gimbaled stove is their but its minimal weight and it's a special American alcohol system. This system is rarely used in Mediterranean waters. Plus it has been asked to be in non-use on this performance-purposes-only boat. And so with that, cooking was out of the question…!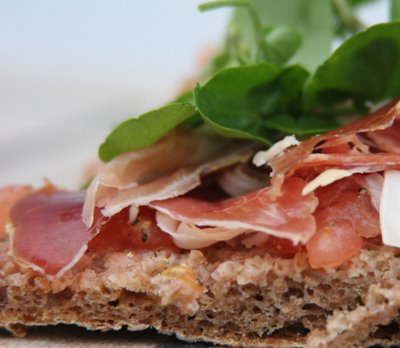 Gulp… now what?
Five days at sea with no heat, no ignition, no fire, no combustion… Niente…!?
Some people might panic, but actually this gives the opportunity to true grand chefs to show off their majestic skills!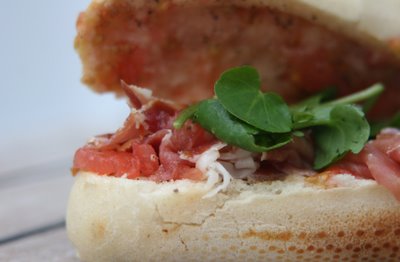 We saw our challenge and seized it at full speed. One of the dishes we whipped up, were these two delicious sandwiches. Very quickly we had learned that cold cooking can just be as exciting as warm cooking. Although… once stranded in Palma we did have suckling pig and other delicious rich warm dishes 😉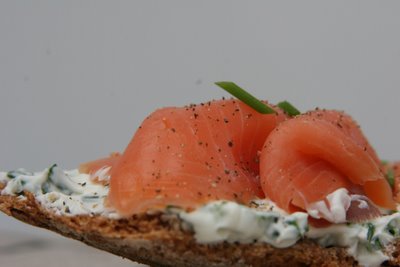 Me, little Belgian one, found my brainwave in the waters I had been sailing up North… Cream cheese and Irish Smoked Salmon Sandwich. The creamy tanginess of the cheese with a squeeze of lemon and some fresh chives, cuts the luxuriousness of the smoked salmon. Some freshly cracked black pepper for a finishing touch makes this a tremendous sandwich. We used to receive these as a special treat when we were small kids and went sailing to the Anglo-Saxon coasts. I remember it as the indulgence sandwich we would get after a day of dinghy sailing at Windsport Sailing School, Falmouth, Cornwall, UK. It was and still is the best!
Or is it…?
My Italians got inspired by our destination, Palma de Mallorca, Spain.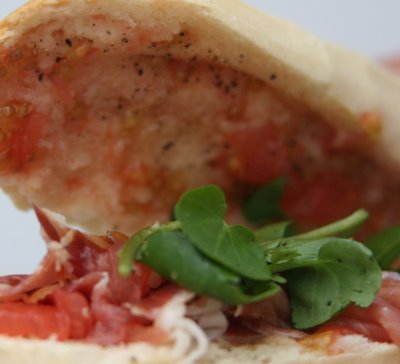 Pan con Tomate with Serrano Jamon and some greens. Pan con tomate is a classic Catalan tapa. Country style bread or baguettes (preferably the one that's gone a little bit stale) are rubbed with tomato pulp, garlic and olive oil. The juice of the tomato turns the bread in a succulent juicy bite, the Serrano is a remarkable extravagance and the greens give the right crunch!
The holiday became a dream holiday, a grand success! Of course nothing less was to be expected with such a captivating, charming, winning crew!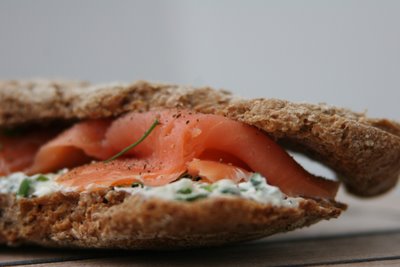 The Swan 42 is a truly nice boat. Although in the first (and I think in the last) place it's a racer. All the components are there to make a short cruise not to edgy.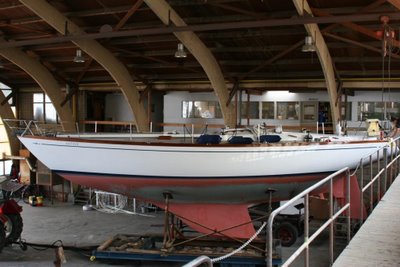 Swan 43 from 1969
But it's not the old Swan 43… Your blog girl is a born cruiser. From prenatal to adult life her summer holidays have been spent cruising our Swan 43. Our Swan is from 1969 and belongs to the first group of Swans ever built. Designed by Sparkmam&Stephens, she is a real beauty. We have faced many waters, moods and crews together and not once has she let us down. She is extremely seaworthy; she takes the most monstrous waves with airy elegance. We have lived for more than 2 months non-stop on her and although we got seasick plenty of time, not once did we get homesick! There are the usual stupid repairs during our cruises; but the essentials are excellent, the composition is flawless, the standard of living is highly comfortable. The cruising is like a five star hotel!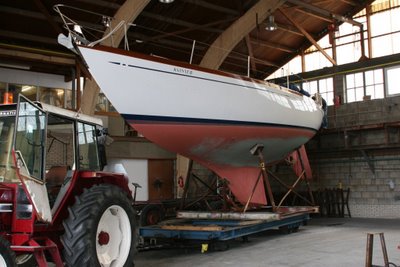 As for the Swan 42… well maybe I'll let the expert/skipper talk, he's better at it…
"The interior of this modern boat is great. You can see that nowadays they use engineers who have thought this through. They researched years and years on how to maximize the space on hand. For interior layout functionality counts above beauty; in the old days beauty was higher up the ladder.
The hull on the other hand raises a conflict of interest… The hull design is flat bottom. Flat hull means surfing on the waves, less resistance in the water, extreme speeding… Flat hull means on the other hand that you smack down on every wave you take.
The old Swan 43 has a nice deep V-shaped hull and cuts through the waves. On the Swan 42 every wave is a slap in the face.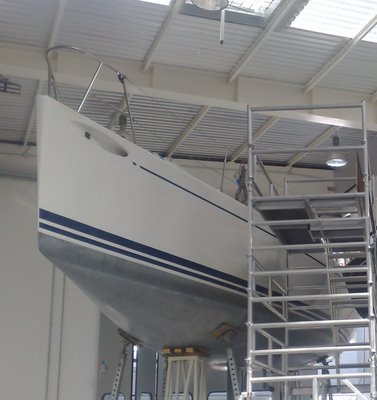 Swan 42 from 2007
You can compare it to the bad diving we all used to do as little kids. Instead of sliding in the water head first like an arrow, we would sometimes hit the water first with our chest and get that painful burning smack sensation.
On every wave this swan 42 clatters from head to toe, the mast rattles, cupboards clang, water bottles jump in the air, doors slam in and out of their locks…
This makes cruising/cooking an extremely uncomfortable job on those boats."
Cream cheese and Irish Smoked Salmon Sandwich
Serves 2
4 slices of smoked salmon
2 tablespoons of cream cheese
Handful of chopped chives
1 Lemon
Black pepper
4 slices of bread of your choice, works really well with Brown Bread or Soda Bread
Lay out the slices on a cutting board. Mix the cream cheese with half the chives and a squeeze of lemon. Spread a thick layer of the mix on two of the four slices. Top each sandwich with two slices of smoked salmon. Finish of with a good squeeze of lemon juice, some more chives and black pepper. Close the sandwiches with the other pieces of bread and serve immediately.
Pan con Tomate with Serrano Jamon and some greens
Serves 2
Handful of rocket salad or watercress
4 slices of Serrano Jamon
2 high quality vine-ripe tomatoes halved
1 clove of garlic halved
Black pepper and fleur de sel
Extra virgin olive oil
4 slices of country-style bread or 2 small baguettes
Rub all slices with the garlic first and then with the tomatoes. Make sure all the delicious pulp and juices get into your bread by firmly rubbing and squeezing. The riper the tomatoes are the better this works. Drizzle the pieces with some olive oil, cracks of black pepper and flakes of fleur de sel. Keep your salt to a minimum because otherwise it will kill the taste of the Serrano Jamon; but you need the salt to bring all the flavours together. Through osmosis the salt sucks out the tomato juice from the pulp and makes the topping even moister.
Top with the ham and greens.
Both sandwiches should be served with an ice cold white wine. Or if you are feeling fancy try with a rosé; Domaine la Rose Des Vents from Côteaux Varois en Provence is a really nice one!