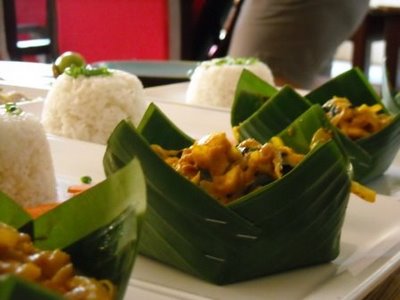 Cambodian cuisine still has infinite amount of secrets for me. Like what is hidden inside those banana leaves from the street vendor, or what about those fine smelling banana-pancake-cookies, or what about that nasty reeking smoked and dried fish? Not to start about how to use the infinite different kinds of cucumber, eggplant and basil at the market, or any other bizarre shaped vegetable for that matter.

But already I want to share with you a local dish!
Fish amok
First let me tell you how we discovered fish amok. Before I arrived, friends already old me about the two famous dishes in Cambodia; beef loklak and fish amok. I was very keen to discover those but I wanted to wait the right moment.
On the back cover of our lonely planet it says top five things to do in Cambodia… "Pound, whisk and sizzle your way through a cooking course in Siem Reap"
I couldn't say no to that! I now this might sound incredibly shallow or superficially food-nerdy but I only read one thing in my guide before arriving in Cambodia… I looked up the places for cooking courses. I didn't do any research on temples, museums, historical places… I just looked for that one thing.
And one of the courses really appealed to me!
Le tigre de papier (a name like poetry) organises cooking course with a visit to the market.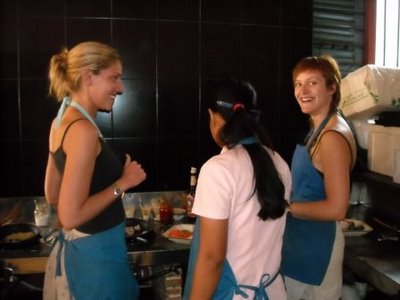 And all profits go to
Sala Baï Hotel School
.
The wonderful Sala Baï is a school for disadvantaged young Cambodians; training them in all fields of the serving industry: housekeeping, front office, restaurant and cooking.
The hotel and restaurant are located in one of my favourite streets in Siem Reap. It's a back street; one where you don't go the first couple of days when you are an innocent tourist. Although it does have the classic setting of lined up guesthouses and restaurants; here the guesthouses are not dominating. They are more spread out and less 'in your face'. They are intertwined with local houses or sheds, playing kids, street stalls, cute restaurants… and the Sala Baï of course!
At the moment it's only open for breakfast and lunch. They are hoping to open up for dinner too very soon.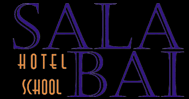 One sunny day we treated ourselves to an enchanting lunch there. Young students served us with touching inexperience. We really felt like spoiled royal children.
Food was great; Khmer food but with a refreshing touch. I immediately bought their cookbook. Partly because it's for a good cause but mostly because it was one of those cookbooks where it's love at first sight!

Next day we pleaded at our reception desk for use of the hotel kitchen. "Jeeess jeess no ploblem!" Super cool! We were overexcited!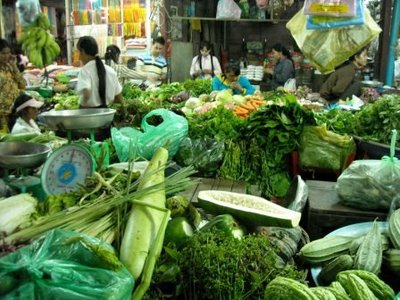 We went to the market like a child goes to Disney land. Our basic Khmer helped us interact with the vendors.
Sadly, our first cooking night got messed up by a couple of unfortunate timed surgeries and coin flipping. But on our second night we are making fish amok, like we learned in our cooking course!
Originally it is a curry-ish fish stew dish steamed in banana leaves. But to make it more available for everyday use, we learned to make it on the hob.
The lemongrass paste they use for this dish is a Cambodian curry mix. It's really a great savour. It might be a bit of an effort to make it but you can store it in the fridge for several months. Just make a big bowl and use it instead of your normal curry paste. I guarantee you people will love it!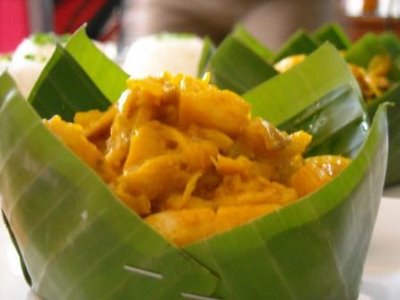 PS sorry for the dodgy pictures…
Fish Amok

Adapted from la cuisine du Cambodge avec les apprentis de Sala Baï
By Joannès Rivière
Serves 4
400g firm white fish bones removed
6 leaves of broccoli thinly sliced
4 spoons of lemongrass paste
2 spoons of parika oil
1 clove of garlic
1 onion roughly chopped
500ml coconut milk
3 handfulls of mushrooms
Sugar
Fish sauce
Put a large pan on a high heat and add your paprika oil. Add the garlic and onion and fry for a couple of minutes. Add the lemongrasspaste, fry to bring out all the aromas. Then add coconutmilk, fish and mushrooms and let it simmer for a couple of minutes. Put the leaves in and finish of with some sugar and fish sauce to taste.
Lemongrass paste or Khmer Curry paste
Adapted from « La cuisine du Cambodge avec les apprentis de Sala Baï »
By Joannès Rivière
100g fresh galangal root
100 g curcuma (=turmeric)
100 g garlic
200 g lemongrass
200 g shallots
20 kaffir lime leaves
2 teaspoon of prahok (fish paste or shrimp paste)
Chop everything very finely and pound in a pestle and mortar. Or keep it simple and whizz it up in a mixer!