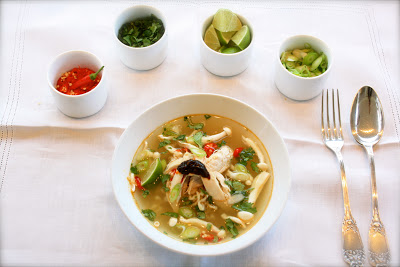 Mmm the holidays are finally here. 
Festivities with the big family, the small family, the colleagues, the new friends, the old friends…
Delicious food here and there…
Lazy Sundays, lingering brunches, bread and cheese for a 'light' lunch, a cup of tea with a cookie (or three), five course dinners with delicious game and scrumptious sauces and a little chocolaty dessert… Finished off with champagne, gin tonic, delicious wines, digestive…!?
But… djeezes I feel like a gigantic ballooning jellyfish!
And we are only half way. We still need to do the big part two! The gorgeous wonderful New Year's Eve lady still has her grand première coming up!
So what shall I make for my goodbye party that was humbly put between Sir Xmas and Queen New Year? (Yes yes! The Hidden Glasshouse is moving to Australia next week! )
More dark sticky stews, a pasta, French fries with hamburgers or a gorgonzola risotto?  
I want something healthy, refreshing, spicy and slightly sour! Something that also helps to fight this cold that seems to have decided to stick around until next year.
A fragrant Thai chicken broth with loads of lemongrass. Yes!!!
It's easy peasy! It's NOT I repeat NOT time consuming!
And its exotic warmth and tangy lemony zest are perfect to compensate for all this holiday frenzy! Just the thing to get you ready for New Year's Eve extremely succulent slow roast pork shoulder!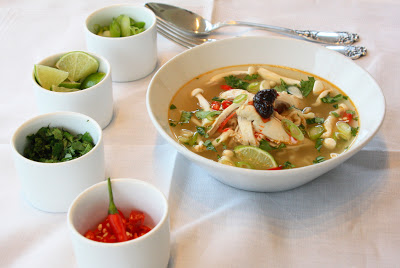 Spicy Thai Noodle Soup
By Ariane Annicq
Serves 4
2 large thumb sized pieces of ginger
Stems of coriander leaves
1 tablespoon dried tamarind
Handful kaffir lime leaves
Water chestnuts, chopped (optional)
Coriander leaves, finely chopped
Spring onions, finely chopped
Fresh ginger and fresh chili, finely chopped
lime pieces
1 pack Rice noodles or egg noodles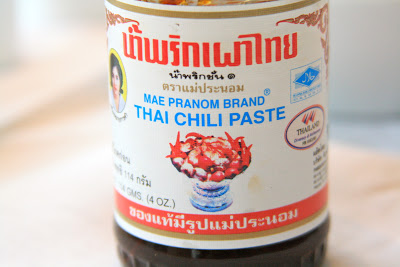 In a large pot place your chicken and the other ingredients for the soup. Top up with water and bring to a boil. Then reduce the heat and simmer for maximum 2-3 hours. (Just forget about it for a couple of hours). Taste it. Add more lime juice if not sour enough or more fish sauce if not salty enough.
Debone your chicken and put the shredded chicken pieces back into the soup.
When ready to serve add the bean sprouts, mushrooms and water chestnuts.
Cook your noodles according to the package instructions.
Now serve a spoon of noodles and top with ladles of soup, chicken and vegetables.
I like to make little bowls with the different toppings (i.e. coriander, spring onions, chili paste, ginger, fresh chili, lime). This way people can season this fragrant broth to their own taste and likening.