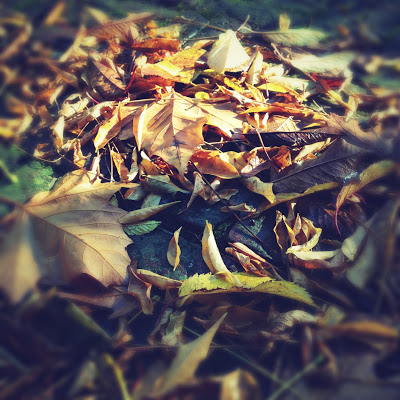 First of November…
It's probably the only Christian day that lays close to my heart.
I am not a religious person but I believe in something and I celebrate the Christian holidays. There is only one that actually touches me. It's All Saint's Day.
Not that I need that day to remember the dear loved ones that we lost along the way. They are remembered in our day-to-day activities constantly. But it's a day that just gives that extra time to stand still, reminisce and evoke memories. My beloved grandmother used to love her glass of port before lunch. So it's also a perfect excuse to have a port at an unconventional hour.
On the first of November the weather is usually concordant with our moods and this year was no exception. It's cold, rainy and miserable but the beautiful autumn colors soften the wounds. And usually a little ray of sunshine will fall through at some point during the day to remind us that with the sadness of loss comes also the joy of having loved.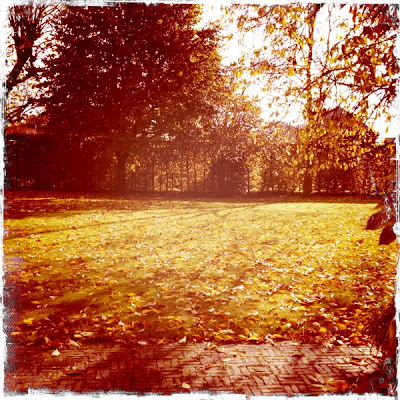 Yes you can see I'm in a blue mood. Cause this years' November added some extra credit to its grief statue. Personal health issues, sudden losses for friends and family reminded us that death is never far away.
So only one thing to do to lick our raw wounds: conjure something earthy, warm and comfy in our kitchen and warm up in front of the fire with family and friends.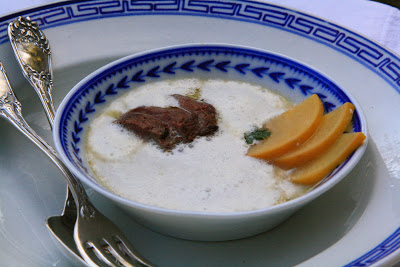 This year I made this delicious earthy consommé with turnips. The yellow baby turnips have a delicious slight peppery taste. The colours are warm like autumn leaves. The breast of a pigeon just seared is a delicate wild flavour that compliments perfectly the cold temperatures.
The delicious moist and tender meat that's still on the bone of the carcasses in the soup can be served at lunch the next day with a beetroot salad!
Even though we celebrated it only on the fourth of November it lived up to it's expectations. As I'm still not in shape this dish was prepared by my sous-chef under my watchful eye. Thank you! I couldn't have done it better.
Pigeon consommé with Yellow Turnips
Inspired by Sergio Herman
Fillet the breasts of the pigeons and keep aside.
Season the pigeons with pepper, ground coffee and salt and fry with butter in a big pot. Add all the vegetables roughly chopped and herbs except for 2 turnips. Top everything up with water. Bring to a boil and then leave to simmer for 4 hours. Let the wonderful aroma's fill up your kitchen and warm your heart.
Meanwhile cut the two remaining turnips in round disks, put in a pan with the milk, the cream and salt and pepper. Gently cook for 30 minutes and keep aside.
When the soup is ready pour it through a fine mesh sieve or tea towel so you obtain a clear consommé. Discard the vegetables but keep the carcasses from the pigeons for your next day salad.
Put the consommé back in the pan and keep warm.
Preheat your oven to 200°C. Get your pigeon breasts, season well with salt and pepper and fry them on both sides (skin side down first) on a high heat until crisp. Pop in the oven for maximum 10 minutes, let it set for a minute or two and slice them. The meat should still be juicy pink inside.
Get ready now to assemble your dish.
In a serving bowl dress the pieces of fillet and the turnip disks cooked in milk, pour a ladle of consommé over. Finish off with a spoon of the milk that you used for the turnips. If wanted you can first froth the milk with a hand mixer to give a more sophisticated look.