Dear all,
It has been far too long since I've updated this blog. And I give you my sincere apologies. I hope I didn't lose any readers by this negligence.
On 29th of December I packed all my belongings for three months in two backpacks… a total of 26.7 kg is what a person necessitates for going to the other side of the world. Or at least I do. I do wonder if this is a lot or not… Am I a light traveller or a heavy packer? Maybe a little survey could be put up. How much do you pack for three months…? Try it and tell me!
So what exactly am I up to?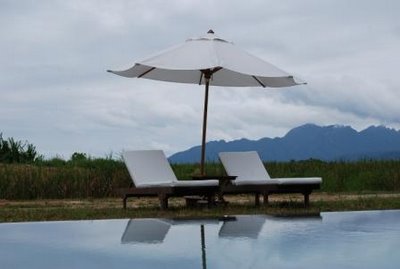 I'm going for a three month internship in Cambodia. Six weeks Siem Reap, practising surgery and six weeks Phnom Penh, fine tuning my clinical skills for paediatrics.
Together with three other medical students, we will learn to forget everything we have ever learned until now and practise medicine on a totally different level at the other side of the world. How different you ask? I ask you to discover this together with me during the months to come.
The purpose of this blog will be extended. Its soul purpose will no longer be cooking and food. It will be also cover developmental healthcare, philosophy and medical knowledge.
But for now I'm not yet into this experience. I've sneaked away to paradise first "pour aclimatiser"…

Together with family and friends we are in Langkawi to celebrate the New Year. When I left Belgium on 29th of December the land was covered in rime, not just morning rime but also afternoon rime, the canals in Bruges where frozen! After a long emotional and wearin journey (32hours) I arrived finally at this place where it's 34°C, beaches are white, water is crystal blue, landscape is the jungle and people are relaxed warm hearted.
I want to share with you the most delicious refreshing welcome drink. It's courtesy of our current lodging address; the Temple Tree at Bon Ton Resort (which is unbelievably great by the way!).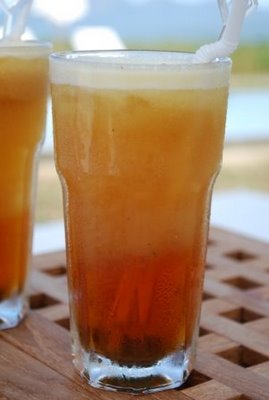 They serve this Pineappleminttea. It's freshly squashed pineapple juice + tea + mint sauce. It's minty fresh, it's perfectly sugary, it's foamy espuma like… It's the perfect poolside / heaven / heat beating drink.
Pineapple mint tea
courtesy of Temple Tree at Bon Ton Resort
1 pineapple
½ measure of mint sauce
1 ½ measures of black tea
1 measure of sprite
In a blender mix your pineapple to a juicy consistency. For a foamy touch you need an extra powerful ultrasharp blender. Let your tea cool down.
Get a long drink glass, fill it with ice. Add the tea. Fill your glass with the pineapple juice. Add the sprite and finish of with mint sauce.
Drink ice cold in over the top warm conditions!