As T.D. continued his journey through Japan he shares with us a traditional tasting menu in japan.
"They say Kaiseki is the progenitor of our nouvelle cuisine. It's a mix of well-balanced flavors in small portions. It's served with meticulous precision.  The attention to aesthetics one can almost call maniacal.  Each dish is a piece of art. Every plate is a harmony of flavours, seasonality, colours and texture. We had the pleasure to enjoy one of these samplings last night in a very small restaurant and everything was prepared right in front of us.
Unfortunately I couldn't get precisely the ingredients nor how they prepared it (10 people in the rest. and the chef was working relentlessly).
Food was really good even though not everything genuinely surprising in our mouth.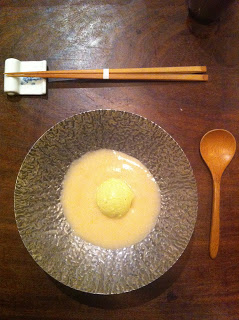 1) Pistachio ice cream in a peach sauce. The ice cream is salty. The sauce contains possibly some rice cream. The combination is confusing and delicious. It sets the mood for the evening.
2) Dried sea fish (Nishin/Herring) slow cooked with a sweet and sour eggplant. This dish resembles a little the rainbow trout I talked about the other day.
3) Marinated mackerel sashimi (soba) served with soy sauce. Balanced out by coquilles Saint Jacques brûlée with a vinegar dip sauce.  Very refreshing and light!
4) Deep fried tofu with a filling of fish served in a warm "gluant" consommé. Slimy yet satisfying… Hakuna Matata as the Lion King would say! The fish is actually hamo: sharp teeth eel. It's typical for the summer season. And the deep fry adds a subtle crunch effect.
5) Seaweed in vinegar sauce…
Wild goose with mustard…
Eggplant with miso cream…
Chicken liver (?stem cooked?)…
sardines in home made oil marinade…
The dish is so complex and multifaceted it's a bit hazy in our memories. It's a clash between Japanese and French cuisine.
6) Deep fried spring roll. The fish is "aiu"-something. It's meant to be a freshwater fish. I find it very interesting how they waltz between fresh and salt-water fishes here in Japan.
7) Magnolia leaf miso (=hoba miso) served with eggplant, pumpkin, green pepper, slow cooked pork, rice cake and ginger root. The pork is very fat and tender. It's a sinful dish!
8) Rice with some kind of Japanese vegetable. (It was something very light I couldn't get.) Accompanied by dried baby sardines, red miso soup, daikon & cucumber pickles.
9) Melon ice cream and green tea jelly. Last but definitely not least. The perfect finish to this wonderful journey through flavours, textures and colours.