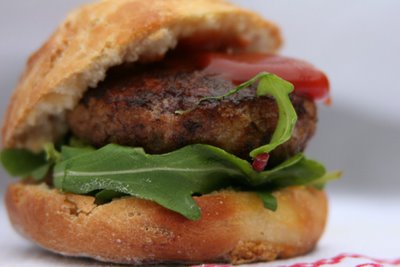 My brother is the perfect entertainer. I think he perfected his skills when he lived in Geneva a couple of years ago. His apartment would always echo laughter and chatter. His place was totally "l'auberge espagnole"-style (great movie by the way)… people from all over the world walking in and out. Plus he made it look so easy to have everybody in a continuous state of bliss.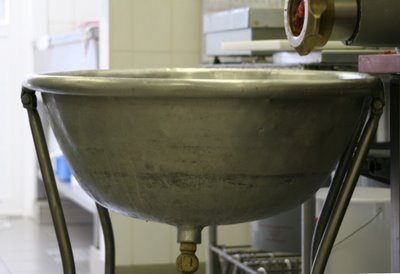 His apartment was on the ground floor. He had a little garden in the back. Geneva, Switzerland brought lots of nice sunny evenings during his stay. Whether it's pure luck or him being able to talk with the Sun Gods I haven't figured out yet…
Anyhow… an impromptu BBQ-night was more a weekly habit than a yearly exception. And what I loved the most were his hamburgers!
They are the best and the easiest party food you can imagine..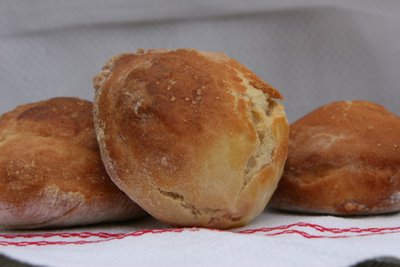 I made the buns myself. I tried several different kinds but finally I found the one! I found this overtly delicious recipe on Epicurious! Really thank you Joyce McClelland, of Terre Haute, Indiana! You bring a whole new level to my hamburger life!
Et maintenant la viande…! I've already mentioned our butcher in a previous post. But really they are the best! They give such great quality meat, brought to you with an expertise you can't find anymore these days. If you read my first post about craftsmanship… well our butcher is pure craftsmanship! He is an affectionate philosophical choral singer and she is a flamboyant captivating nurse! They took over the business from his father when he died at an unfair young age.

They have their own cows (more on the cows next week). Every week they slaughter one cow. In the shop you can always find a full identification file on the 'cow of the week'. Each year the cow gets a name that starts with a certain letter. For example last week the cow her name was Zaire. Then you know she is from 2004 because 2004 was a Z year.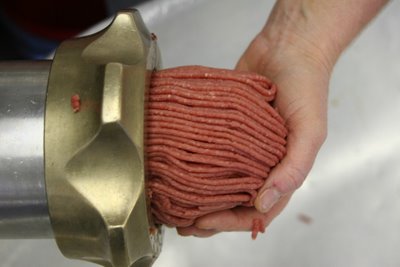 For my hamburgers she mixed 2/3 beef with 1/3 pork meat.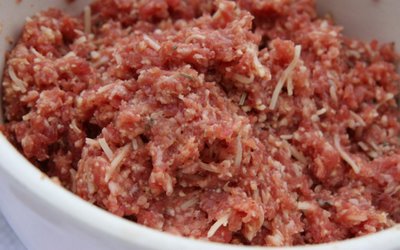 Get the meat; mix it up with some gooey cheese and sauces. Buy the hamburger buns, salad, onions and tomatoes. Lay everything out on a table with some ketchup or other sauces… et voila!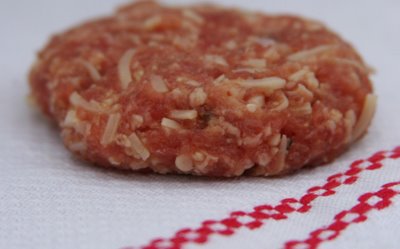 Once the BBQ is hot, grill your hamburgers. Let your guests do all the other work (i.e. choose their own toppings and hamburger composition) so you can have a beer and flirt with party life.
Entertaining food doesn't come any easier than that!
I did a reception lately but I wanted to fancy up my hamburgers a little

Because I'm not in direct contact with the Sun Gods I didn't get the opportunity to barbecue them. But I put them all on a large baking tray and popped them for 20 minutes in an extremely hot oven. Even easier!!!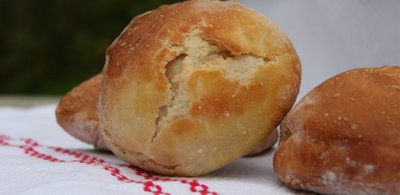 Further more I fancied up my hamburgers toppings: oven dried tomatoes, ultra thin crispy bacon strips, pan fried onion rings, homemade mayonnaise, tapenades and pesto!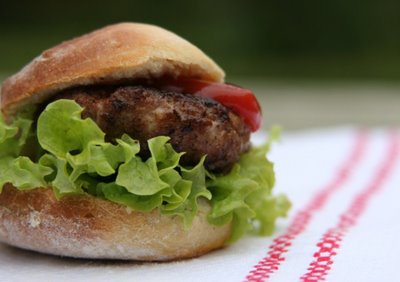 I maybe put a little more effort in prep work but during the reception I was still effort-free!
Our butcher:
Slagerij Raemdonck-Van Hulle bvba
Molenstraat 123
9032 Wondelgem
Hamburger Buns

My adaptation from Joyce McClelland's family recipe.
Source: Gourmet magazine, June 2008 via
www.epicurious.com
Makes about 15 buns
450 ml milk
60 ml lukewarm water
25g fresh yeast
50 g plus 1 tsp sugar, divided
50 g unsalted butter
2 large eggs, lightly beaten
1 Tbsp salt
750 g flour
1 egg yolk mixed with 1 tbsp water for egg wash
Slowly heat milk, sugar and butter in the microwave to lukewarm temperature. Mix until all the butter is melted.
Meanwhile, stir together warm water, yeast, and 1 tsp sugar in mixer bowl until yeast has dissolved.
Add yeast to warm milk mixture, then mix in eggs until well combined. Gradually mix in flour and salt, scraping down side of bowl as necessary, until flour is fully incorporated. Easiest way to do this is with an electric stand mixer. Beat at medium speed for 5 minutes. (Dough will be/should be sticky.)
Cover tightly with plastic wrap and a towel. Let it rise in a cool place for 24 hours. (Or if you are in a hurry, in a warm place for 2 hours but will be less yummy!)
Preheat oven to 220°C.
Line 2 large baking trays with baking paper.
Punch down dough and then roll out on a well floured surface with a rolling pin until about 2 fingers thick. Cut out as many rounds as possible with floured cookie cutter and arrange 2 cm apart on baking sheets. Gather and reroll scraps, then cut out more rounds.
Brush buns with egg yolk mix. Bake until tops are golden and undersides are golden brown and sound hollow when tapped, 20 minutes. Transfer to racks to cool completely.
Hamburgers
Makes about 15 hamburgers
1 kg minced meat
1 egg
1 tbsp mustard
2 tbsp ketchup
1 teaspoon Worcestershire sauce
125 g grated cheese
3 tbsp finely grated breadcrumbs
2 tbsp milk
Tabasco
Cayenne Pepper
Herbes de Provence
Take a big bowl and mix everything except the meat and the spices. Add drops of Tabasco, a sniff of cayenne pepper and a teaspoon of Herbes de Provence. Finally incorporate the minced meat thoroughly.
Roll the hamburgers to desired size but not thicker than 1 finger.