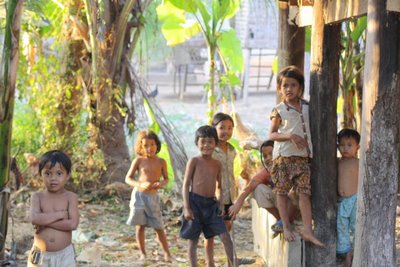 We leave Siem Reap behind, I repacked my 27.6 kg, got on a 6hours muffy bus ride to get to Phnom Penh and our new home for the last six weeks of our adventure.
I want to share with you our goodbye gifts from our doctors.
Thursday evening is our last night in Siem Reap. As we are packing in our room and pampering ourselves before we hit town one more time, our house phone shrieks a high pitched ringing. Astonished we stop our activities to find out who could possibly call us on that phone. It's the receptionist; he says we have a visitor waiting for us.

In the lobby our most convivial and funny doctor is waiting, Dr. Kong. Only the day before he took us to lunch in his house; his wife had whipped up a wonderful beef stir-fry with a delicious dipping sauce (more on that later) and a refreshing clear fish soup. A cupping session (traditional Chinese medicine highly followed by Dr. Kong) and nail polishing session later we were two happy indulged medical students.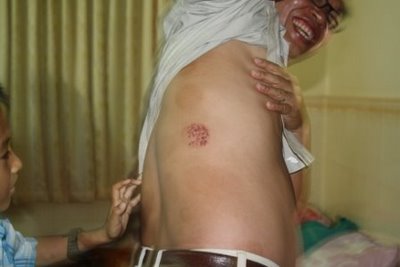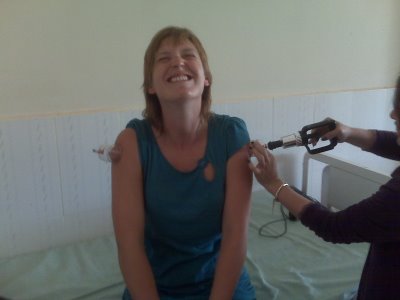 So you can imagine our excitement when we see him standing in our lobby. He is here to kidnap us. He orders us to get ready quickly because 'the boss of his boss' is waiting. (That would be his mother in law).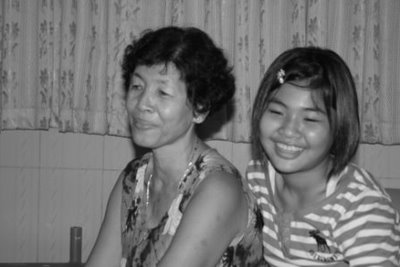 Thrilled, final touch on our outfits and off we go, with three on his motorbike! It might seem a lot but trust me Cambodians think this is utter luxury; five is more to their standards.
(Btw I forgot to tell you we drove 200 something km from Kratie to Ratankiri in a standard Nissan car with 9 people. Two in the drivers' seat!!! The words space and individual seating are not really included in the dictionary here! Cambodian style!)
We drive with a beautiful full moon watching over us through the backstreets of Siem Reap, through a pagoda, over a pitoresque little bridge until we arrive at a fine house.
Inside we hear children playing and laughter. The door is opened up to us and we enter this fairy tale. The whole family is there waiting for us. On a typical Cambodian floor mat a feast is laid out. We are deeply touched. How wonderful everything looks, how friendly these people are to open up their homes to us.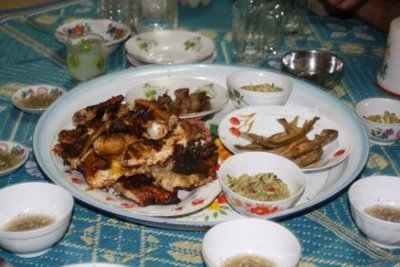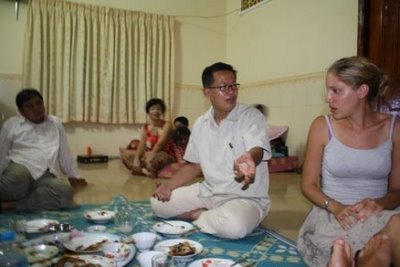 We are ordered to sit down and dig in! Everything is tasty and delicious; words are not enough to describe it.
We have roasted chicken, spare ribs, battered deep-fried little fishes. And again the wonderful dipping sauces. I particularly like the lemon and black pepper dipping sauce. I'll share with you the recipe at the end of this post.
A refreshing spicy green mango salad puts fire in to our feast.
It's perfect; weren't it for the palm wine we received to wash it all down… We have been trying to get our hands on some authentic palm wine ever since we got here. But now we finally understand why they keep it hidden. After we had been nagging to Dr. Kong for a whole week, he finally presents us 'The' palm wine. The palm wine you buy at a small farm, not in the supermarket. He produces a milky coloured liquid in a plastic bottle. When he wants to open it a fermenting gaz comes out that smells ten times worse than rotten eggs!
As we are polite girls, we try not to say anything. They serve us a whole pint.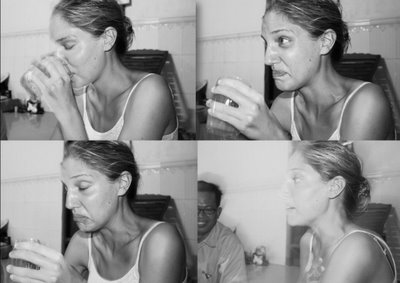 "A bit" sceptical I bring it to my nose and get hit by this smell that makes my face squinsh into the most horrible positions. I can not disguise my disgust. They all start to laugh at me. Thank god they have a sense of humour and don't take it as an offence. But still I want to thank them for the wonderful meal and convince myself it won't kill me to take a sip. Although I'm scared, I manage to take five sips of this concoction. After that I plead forgiveness. We all have a great laugh about it, it's simply revolting. It's something we will never forget!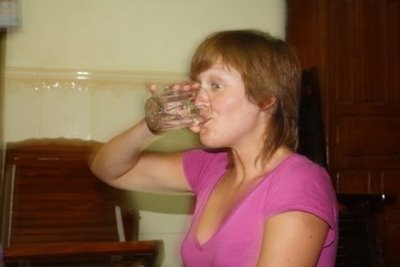 Thank god there still is water!
Friday is our last morning in surgery! Dr. Rithy, the chief of surgery, has a present for us! He has an ovarian cyst that we can remove all by ourselves!!!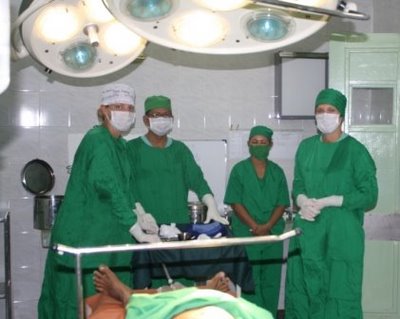 It's amazing cool! I open and Katrien closes! The cyst has the size of a handball so it wasn't hard to miss! The patient was walking around with it for ten years already. She actually looked like she was pregnant, about to pop any moment. Something we will never see in our Western world. It really is a different world.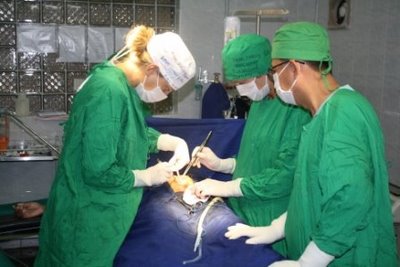 And with that successful surgery we were off to Phnom Penh. We will truly miss this place. We had gotten very attached to it… to the people, to our bicycles, to our perfect room, to the dusty roads, to our favourite restaurants… It was a success story from beginning to end!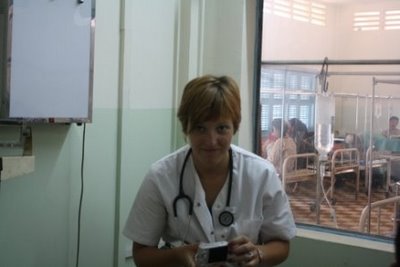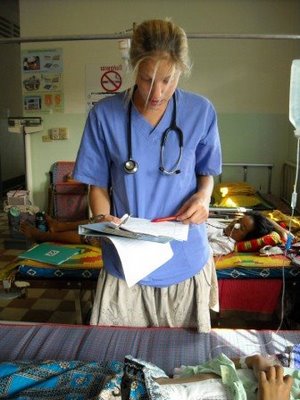 Next week I'll give you our top ten list of delicious places to eat!
Lemon and black pepper dip sauce
source: Dr. Kong's wife
1tsp of freshly ground black pepper
1 tsp of garlic (fried if possible)
1 good pinch of palm sugar
Mix all ingredients together in a bowl. Taste and adjust to your likening. Serve on the side with beef stir-fry or roast chicken or duck. Or as a dipping sauce for your barbecue or a dressing for salads.